We left Columbia, MO by 8 am and made it to the Marina shortly after 1 pm. After dock introductions and a quick bite to eat, we set about unloading the overpacked van. The first thing we did was set up the new bed. The 12" memory foam mattress is 24-48 hours out of the box before it fully expands. That went over the new foldable lightweight platform frame, selected because it gives enough clearance to store full size totes underneath, negates the need for a box spring and ability to move it out of the way when we need into the engine compartment. We unloaded the patio furniture only to realize Sean had left the bag with all the screws in the car, back in CoMO so that will get set up at Cooper's. Next all the food, provisions, tools and everything came out and got sorted, organized and put into its permanent home. I didn't like the tables I'd bought to use as desks so they, along with the wrong-sized shower curtain, went back in the van. The boat mechanic came by to get a $400 check for the work he'd done (impellers and water pumps) and Sean and him tried again to install the horn still baffled by the one nut. The good news is Swamp says everything checks out and he feels comfortable with us going. He said the owner had called him daily to make sure! Dad put together the new portable propane grill with its million pieces, installed the fire extinguishers and smoke detectors while Sean scrubbed the boat, top to bottom. By then it was time for dinner. We grilled royal red shrimp and portobello mushroom caps and set up the new adjustable bow table and had a feast. After, we were invited over to Midnite Sun for another round of 'shit on your neighbor' card game. It was great fun despite me being out first. Saturday we were up bright and early at Harold's for breakfast and then ran our last errands before we were to take off. We purchased 4 gas jugs, a clicklock couch for the salon (I realized having no place to sit was going to get old, fast), new trash can, 6 gallons of water, another fire extinguisher and reprovisioned some food. We needed to solve a couple problems, one being the grill. Since it was just a little low to the ground portable, it put out quite a lot of heat underneath. Not safe for fiberglass. Second was how to safely stow the extra gas cans. After looking at several different options, dad came up with the idea and found a 2'x3' ironing pad, perfect to set the grill on and a garage oil spill matt and bungees for the cans.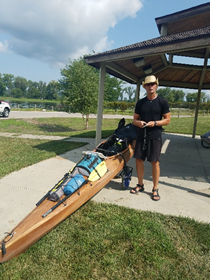 When we get back I meet Dirk Rohrbach, a German physician, journalist and photographer making a solo journey from the mouth of the Missouri river in Montana to the Gulf of Mexico in his homemade canoe. He shows me his guide book and the 'Yacht Club' he plans to stop over in St. Joseph, MO and I hope this might be a good option for us, too.
http://dirk-rohrbach.com
Back on the boat, dad and I spent time poking around, me showing him everything I had kept from the owner's horded stash and he culled things a little more and explained some uses for other things. A little after noon the previous owner showed up for our final walk through. As predicted, he and dad hit it off, right away. We started with his extensive knowledge of the engine, generator, hot water heater and battery bank and moved on to a box of 'unknowns' we had saved from the dumpster until he could enlighten us as to its usefulness and importance. We then went to the helm station and walked through every button, knob, switch and gauge. We wrote down the procedure for leaving the dock and coming back. It was a wealth of information and made all three of us feel a lot smarter and more comfortable with everything. We asked questions and took notes for almost three hours but by the time he left we were feeling ready. The only big thing left was to fuel the boat. We secured everything inside and out, got out docklines and were ready to go. A couple of the dock guys were convinced by the dock queen from Midnite Sun to ride along with us to 'help'. The boys had a lot of advise; I'm not sure they fully understood Sean's experience, but it was well intended and appreciated. It took a bit to get it started but we were told that wasn't unusual. It was a great sound that gave my belly a little wave when it finally turned over and started to purr. We backed out of the slip with the dock ladies looking on and made our way to the fuel dock. It was being used (one boat at a time for fueling) and before we could get in place, another boat slipped in before us. This was fine as it gave Sean some time to play around a little. Finally Sean eased into the dock like a pro and we started the job of fueling. About that time a bunch of waverunners started zipping along the area causing a bunch of wake in the no wake zone. Two pulled up to the dock impatient to get their turn realizing we were filling a big tank. The guys started giving them, and their buddies friendly 'advise' about knocking down the ruckus as our boat was being slammed up against the dock. Rather than fight it, Sean elected to stop fueling after about 70 gallons, pay and let the other guys have the pumps. We were going to top off after our run, anyway. Well it was during that time that the waves got worse and Sean started yelling 'it's a no wake zone and you'll pay for any damage to my boat!" while the other dock guys were trying to shoe them away. I guess the wave runners can be a real problem for the bigger boats, trying to jump their wake and generally get in the way making it unsafe for everyone. The one guy now fueling starts getting mouthy and the helper on our boat says 'we could just run them over' and Sean stupidly says back to him 'or else I could just shoot 'em', kidding of course. That caused the waverunner dude to become a super asshole and he started yelling to his buddies, 'hey, this guy just said he's going to shoot you' over and over like we had actually pulled out a firearm. I'm trying to diffuse the situation but the more I try to laugh it off and talk about rubber band guns, and then seriously apologize, the louder and more obnoxious wave runner dude becomes and now everyone on our boat is mouthy and the buddies on the wave runner are confused but also alarmed and the situation is stupidly escalating. Sean should have never said it, and should have known better because while we don't have or would ever carry a gun, this is Omaha Nebraska, middle of farm country, and you can bet your sweet ass that these guys do…maybe even on a wave runner. We finally slipped away from the fuel dock thankful they were headed in the opposite direction we were. Great way to start the trip. We get out and everyone starts to relax more into the boat. The guys are advising, Sean is driving, I'm checking gauges and dad is just trying to hold on, with a watchful eye toward the life jacket I had placed right next to him. Soon Sean asks if he should open it up and he does. It didn't feel very fast and I ask if that's it? It seemed much faster on our test run. He was only able to get 3000 RPM on the port and 3400 on starboard at about 7 miles and hour going up river. They should be up at 3800, 4000 RPM if you're cranking it, according to the engine manual, getting up to 25 mph on plane. One of the guys on the boat said he'd been on it many times and that it normally pops right up like a bat out of hell. Hmmm. All the guys put their puzzlers on and try driving it from inside, outside, doing whatever trouble shooting they could but nothing would make it go faster. We were also looking at the fuel flow meter but it didn't seem to be working. After running for a little while longer we make our way back to the fuel dock to finish up the tanks and fill the gerry cans. When I look at the gauge it's more than half full which is weird because we started with less than a quarter, put in 78 gallons and still should have 300 more, give or take, to go to get to capacity. But after just 72 more gallons the tank overflows and the meter shows it's full. Something just isn't computing. Is there another tank we don't know about? Is there a switch to flip to show the starboard capacity? Is the tank fouled or has something else wrong that wouldn't allow it to be filled? This is a very troublesome revelation. We only bought the boat after learning it's increased fuel capacity, full well knowing without it we couldn't do what we needed to and especially not get to Cooper's Landing. As we left the fuel dock, the starboard engine just quit. Sean restarted it twice before it finally kept running. That can't be good. So now we have a boat that won't get up to speed, for some reason only accepted 150 gallons of gas, and has an engine being temperamental. We get back to the our dock and after more advise and a couple of attempts, Sean eases her into the slip while the dock gals catch the lines with a round of applause. Overall, a big success for our first time going out; we didn't hit anything or anyone. One step forward, three steps back. But now what?