Things are moving right along in the Prime Time adventure of Jill & Captain Sean. The boat has traveled from Omaha to Cooper's Landing in Missouri and is almost ready for the next part of the journey.
Time for Change
I woke straight up in bed at 3:45 am, panicked. In my dream I had been working to get everything done and it was like groundhog day; I wasn't making any progress, just repeating the same tasks over and over. It's Sunday and we have five more days in the house I've owned and lived in for 21 years. We're supposed to close next Friday.  I've been busy sorting, pitching and selling an entire lifetime. The new owners purchased all the furniture and the pontoon boat but all the pictures, chochkies, my decorative/ceremonial mask collection, books, tools and so much more must go. Or not. I'm craigslisting things and if they sell, great, if not, the buyers can sort it out, right? I've already taken a van load up to dad's house to be store long-term. There's still a lot left.
On top of that, my longest client (15 years) has recruited, interviewed and found my replacement. Salute to America has been my soul, building it from a small event in a couple downtown streets to a multi-day festival attracting 70,000 people to our State's Capitol over 17 city blocks, 7 music stages, more than 150 volunteers and multiple themed areas. I'm sad to see it go but I gave my notice and it's done. But it's also a lot of organizing and sorting to make sure that it's all ready for the new director.
On top of that, our first event in Key West is November 4 and then they roll every two weeks thereafter with the big festivals mid December, mid January and first of February. And a potentially new client has contacted us about shows in December and April. Vendor registrations, sponsorship decks, permits, website updates – all due now.
This is why only retired people should cruise the Great Loop.
Because as if that wasn't enough in and of itself…
We're trying to put this boat together, figure out all the electronics, acquire all the safety gear, get the engines tuned, generator fixed, identify and prioritize a dozen other tasks (leaking window seals, lights that don't work, broken sink drain, rewiring the microwave etc.) and I'm trying to write and keep a website updated (not very well, either) and plot our course for ports, docks, fuel stops, etc. Fortunately for us, we're still at Cooper's Landing and dad has made us his pet project. All of us being so close to the boat (dad 15 minutes away in Columbia and us about 30 in Jeff City) has been awesome and we are grateful we didn't head straight up to Port Charles as we'd originally planned.  Dad has pretty much been on the boat every day or online researching and ordering parts or running all over town finding things he needs to accomplish his projects. He says it's fun for him, therapeutic and he's getting his exercise; he likes puzzling things out and solving problems. This from a guy who made a two-page diagram of a ceiling fan wiring that wasn't working. I keep thinking this would be driving my mom crazy but she's not here to tell him come home and mow the lawn so he just works on. He's so knowledgeable about so many things he makes the best kind of 'handy man'. I'm so lucky.
Dad also brought us James. When I told him about our mechanical troubles while in St. Joseph he said if he could get James to come we'd be in business. James is THE mechanic for Columbia Public schools working on all their vehicles ('the' as in only but also as in the best, according to dad). James worked under Chester when dad was building supervisor during his second retirement and dad likes him because he's old school as in knows how to tune an engine by sound kind of way. Dad says (and James attests), people either love him or hate him. He's quirky, flip and calls it like he sees it. He's never been married, lives life sober (now), goes to early mass on Sunday (with the rest of the liars, he says) and he talks to his 94 year old mother, who still lives on her own in Florida, every Thursday evening, without fail. He grew up on the river (swam across it drunk a time or two in the day), was an avid kayaker and had his pride and joy motorcycle stolen right out of his front yard not too long back, of which he has confidence (insert scoffing laugh) the PD will find and return to him.
James came down right after we got into Coopers and gave us an assessment and told us what to order. He was back again Friday night and installed the new pump on the generator motor but needed a proper fitting impeller to finish and test the job. Today everything ordered is here and after a final tuning we'll be doing a sea trial to see how the engines do. But first, he finalized the generator and we start it up. Good results, it's powering the boat AND water is 'peeing' out of the side of the boat, just as it should as it water cools the engine. So far so good but the real test is letting it run to see if it can outlast the five minute record set during the Sea Jay attempt.
On Friday there was a huge, gigantic tree lodged on the boat. Today it seems gone but maybe it or something like it is under the boat keeping the starboard engine from engaging. We get out these long poles with spikes on the end (turns out they are 'pikes' used by firefighters) and James, from the swim platform, begins to pull things out from under and set it free to drift on down with the current. Whatever it is isn't budging so now, with the dock lines slacked, James is pushing the boat out to get a different angle so the snag will come loose. Sean is on the upper deck looking on, dad is on the stern, and I'm holding the rope on the dock as we watch James shove, the boat move and James become a right angle. All of us knew what was coming next and attempted to react. I took a wrap on the cleat and tried to pull the boat in, dad reached for him and Sean called down a warning but it was too late. For a moment he struggled to hold onto the side but he had nothing to grip; his legs pumped in the air and within seconds he plunged into the river. All we could do was gasp and watch him disappear under the stern. He popped back up shortly and clawed for the platform. "Dang, ol water's cold," he finally said after he got over the initial shock and caught his breath.
I'm trying not to panic and instruct Sean to release the swim ladder and grab the life ring Of course if you've been following you know that's new safety equipment on the boat…turns out it don't work so good if it doesn't have a rope tied to it. Geeze. James' response? "I told you I could swim". Luckily James is old school and left his flip phone at home and his wallet in his truck and he didn't have on (or wear) glasses so that was saving grace. Back on the boat, we finally cast off and head up river for a test run, James dripping water everywhere as he goes from helms station to engine room listening, tuning and making adjustments. Soon he has it just how he wants it and relaxes and enjoys the ride. I brought up dinner (thanks to my friend Lorie and her wine bar, Vines, who hooked me up with leftovers from Oktoberfest – brats, potato salad & red cabbage, yum) and we ate while we took Prime Time a couple miles up river and floated back at idle.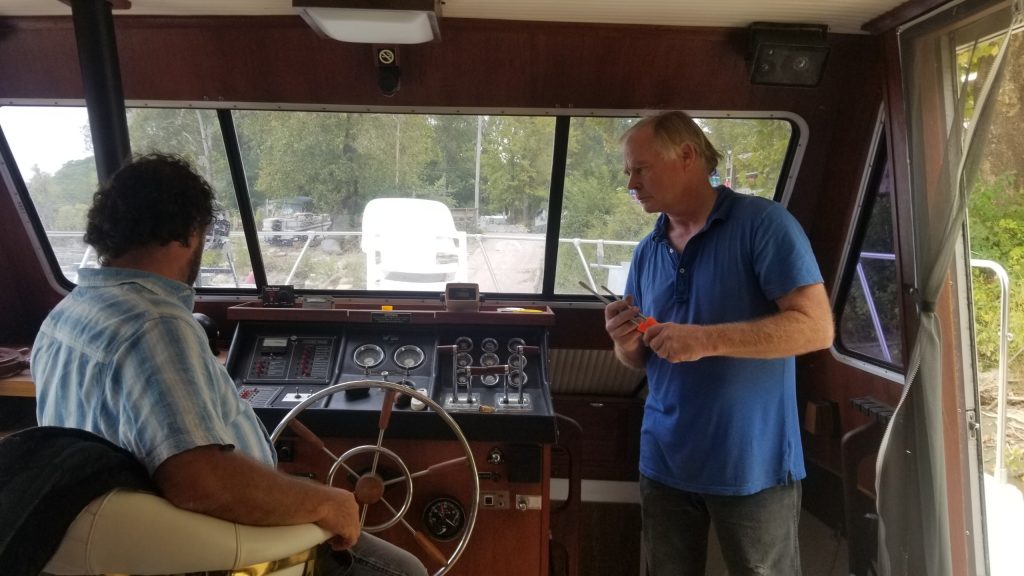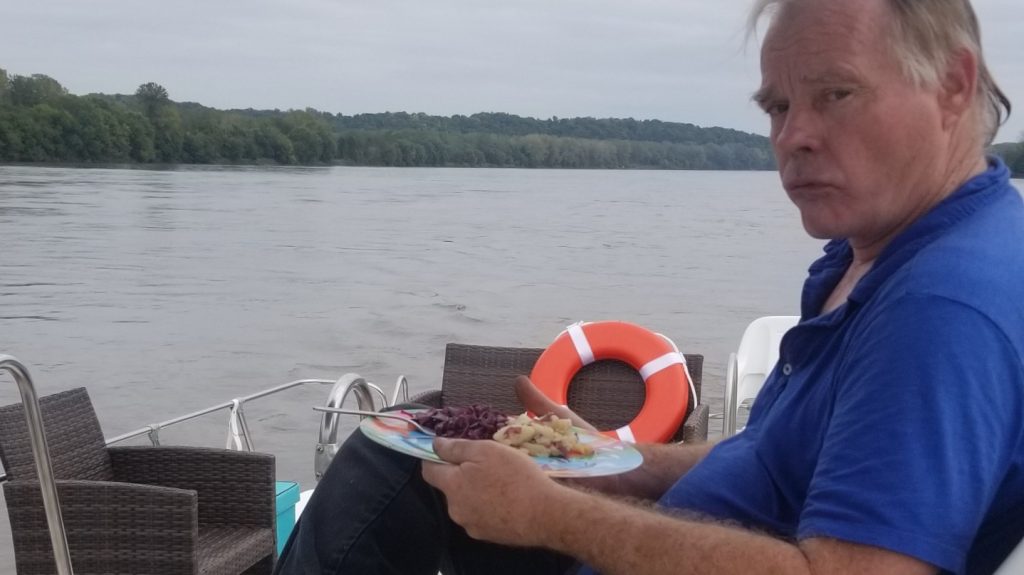 Joseph M. LaBarge
When we got back, Roger and Barbara Giles were at the dock to give us a hand. They own the Joseph M. LaBarge paddle boat that's usually docked where we are now. In fact, these docks belong to them. Their 1930's era sternwheeler was once used as a gambling vessel. The couple bought the sternwheeler in May 2011 for $50,000 and took possession four months later. On Sept. 11 (not sure what year, borrowed this from an article I found), they launched the boat at Marietta, Ohio, on a trip to Cooper's Landing that took 28 days and covered 1,200 miles. It became their summer home and they take out friends on joy rides, nothing commercial, just all for fun. The boat is now in Port Charles having a complete retrofit. They had a leak which caused them to have to tear off the hull, and the wooden hull under that, and start over. It was like picking a scab as that led to rewiring all the electrical, redoing floors, cabinets, tanks, etc, etc. and it's now been over a year. They are hoping to get her back in the water in a couple of weeks and seemed ready to get her back 'home'. They're retired so they've been making the trip from Columbia to St. Louis every day but weekends to work on her in the yard. We invited them onboard to see the boat (embarrassingly a disaster area) and had coffee on the bridge. What a wealth of information and a delightful couple. We could have pumped them for information for hours (we did) but it was after 5 pm and we all had things to get done.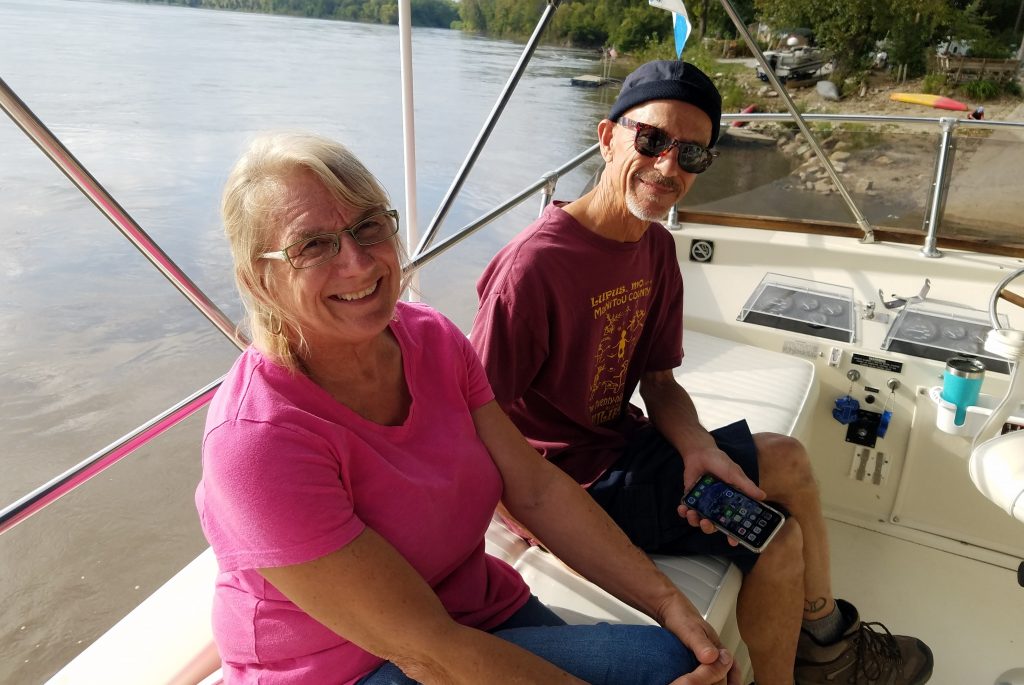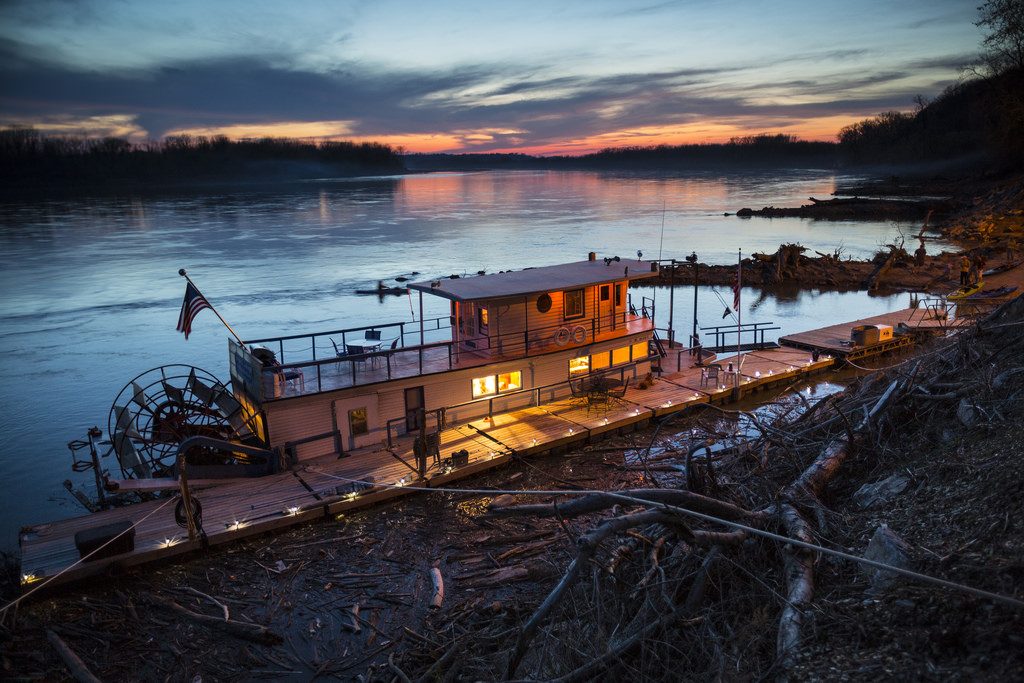 Saying Goodbyes
The rest of this week has been challenging but we're muddling through it. Dad's just about done with his list (still has to mount the mermaid – hahah that doesn't get old) and we're just about done with the house. We've had several friends stop by the boat (didn't get pictures of everyone, Garnet & Charlie!) including the Kelly's that came by canoe.
Today (Thursday, 10-4), the new buyer is coming to do a final walk through and get the titles to the boat, motor and trailer. We have a bit of a snag in that the title company turned up no easement to the private road that we use to get to our house. Apparently some of the houses (about 20) have written easement and about half don't. There's been several sales down here, including on both sides of me, and it didn't matter so I'm super annoyed this company is making a big deal of it. I've been here 21 years, we have a road association and pay dues, so it's just a stupid technicality. That said, the old farmer isn't wanting to cooperate so now attorneys are involved and who know when it will finally get sorted.
Last night I had some people over and gave stuff away. It was surreal watching things walk out the door but I'm happy they'll get used by people I love and not just dropped off at the Goodwill. Sean and friend Joel got the pontoon boat pulled out of the water, again bittersweet. I would have liked to have had one last ride but the clock is ticking.
I spent a little bit of time today reflecting on this 'ol river house and what's it's meant to me. All the remodels and how it's looked and changed over the years; the birthdays and celebrations, the giant back yard parties and flotillas down river, the joys and the sadness. I was looking at the driveway remembering the Jeep with the big bow Steve bought for Sam's 16th birthday and how excited he was. I recalled how middle school Sam had his room decorated with coca cola collectables and a giant collection of stuffed polar bears he liked to bring with him (all of them) on the boat. I thought about our dog Maggie, Maggie the Mutwieler, and how Steve brought her home as a sick little abandoned puppy he found while hunting conservation land. He used to say a rescued dog is a grateful dog and she was. And I remember saying goodbye to her 13 years later when Sean and Sam took her to the vet to end her misery.  I thought about how all my friends and family came together when we needed to make the house wheel chair accessible for Steve; it was surreal watching everyone work on a complete remodel in one weekend. The last time I ever saw my husband was on that front porch as the EMS was loading him onto a stretcher and I said I'll see you later…and I never did. And I remember how after his funeral everyone came to the house, in the rain, to eat and to cry and to celebrate his life. And Lorie Smith siding all the way down the slick stairs on her ass.
But, it's time. It's time to go and make new memories. I've been moving along this path for 7 years now; splitting my year between Jefferson City and Key West and renting the house through air bnb when I'm gone. And my next door neighbor and greatest friend Patsy died this year after the long, slow mental slide of alzheimer's and the house went into foreclosure and sold last week on the courthouse steps. The house on the other side, the one that's been a falling down eyesore for years, also sold and it's in the process of being demolished. The new owner's not sure what his plan is right now but he might sell off the lots. He said if he was younger he'd put in a bar. So, it's time. Its run its course. And we bought a boat. It's done!