Via the Osage River
After 16 nights at Cooper's Landing and a boatload of repairs, upgrades and modifications, Jill & Captain Sean are finally ready to start moving Prime Time south. We hope to get to Demopolis, Alabama where she'll hang out for the winter until we can come back mid February to continue the journey.
It's the day before closing on the house and we are making a mad scramble to try to get the easement for the road cleared up. Despite multiple contacts by the title company, my agent, other people who live on the road, the farmer and his wife (who he blames as the problem) are dug in. We finally authorize our realtor to ask if a $500 gift would help them agree, which they greedily did, and the title company high tailed it to their house with a notary and got the papers signed. 
That day we spent all day on the boat working with dad on the loose ends and the electric. Sean purchased a giant inverter and dad found a switching unit he installed below next to the battery bank. He ran outlets up two places in the boat; one below the dining table and the other under my desk on the steps and he also tied in the fridge. Now when we disconnect from shore power, anything plugged into those outlets automatically comes on without having to turn on the generator (which, by the way, is working great). So now we always have lights, cold beverages and power to use/charge electronics. Sweet!
Dad did so many projects that helped make the boat more 'liveable' and fun. One of my favorites is the pantry. It had several tall, narrow shelves that were also very deep making it almost impossible to find anything without removing everything in front. He made and installed rolling shelves with a lip all the way around them so things don't fall off, and they pull all the way out to expose everything on them. It's so handy and makes way better use of the storage space. He fixed the generator switch so now you just switch to ship power, toggle the lever and it comes on and off like a champ. No more opening the hatch to shut it down. He installed a new fan in the bathroom and a super cool RV curtain rod that extends out when you're in the shower to give lots of extra space, and folds in when not in use giving more room when you're sitting on the throne doing your business. He did lots of little things, too, like installing hooks by the door for coats and to hang dock lines, he fixed my ship's wheel clock and hung it, along with all the rest of the décor, he put up an accordion mirror on the wall in the bedroom that he took down and gave me from my mom's bathroom and bunches of other things.
His favorite was mounting the mermaid, which he proudly told anyone who would listen. This lady came back with me from my first season in Key West and hung in my bedroom for seven years. I wasn't sure if there was anyway to make it work on the boat since there isn't a bow sprint, but leave it to Chester to figure it out. His inspiration was my brother's dog who always wears a harness. He bought one and two dog collars along with some chain, o rings, a couple straps some foam pipe insulation and 4  carabineers. She's now proudly leading our journey and is easy to take down and store when we're off the boat. We decided we'd call her 'Dude', my dad's nick name for my mom. I don't know if she'd be pleased or not with her boobs all exposed for anyone to see but dad says that's all right.
Friday was a whirl wind finishing packing and sorting at the house, running errands and being at the closing at 1:30 pm. Plus, Sean decided with all the changes it was time for him to, as well, so using his electric trimmer he got rid of his beard and most of his hair. When we finally left the house, for the very last time, it was bittersweet. We did a little live video and soaked it all in – for a bout 5 minutes since we were running behind – and we drove off. I made Sean back up and got out and took one selfie with the house and that was that. The closing was quick and painless; the buyer came in for the last few minutes and we exchanged pleasantries and it was done. We went straight to the bank to make the deposit, had lunch, popped by my old boss' retirement party and headed to Cooper's Landing to offload the packed SUV one last time. We ended up working until about 11 pm and then we all to dad's to sleep.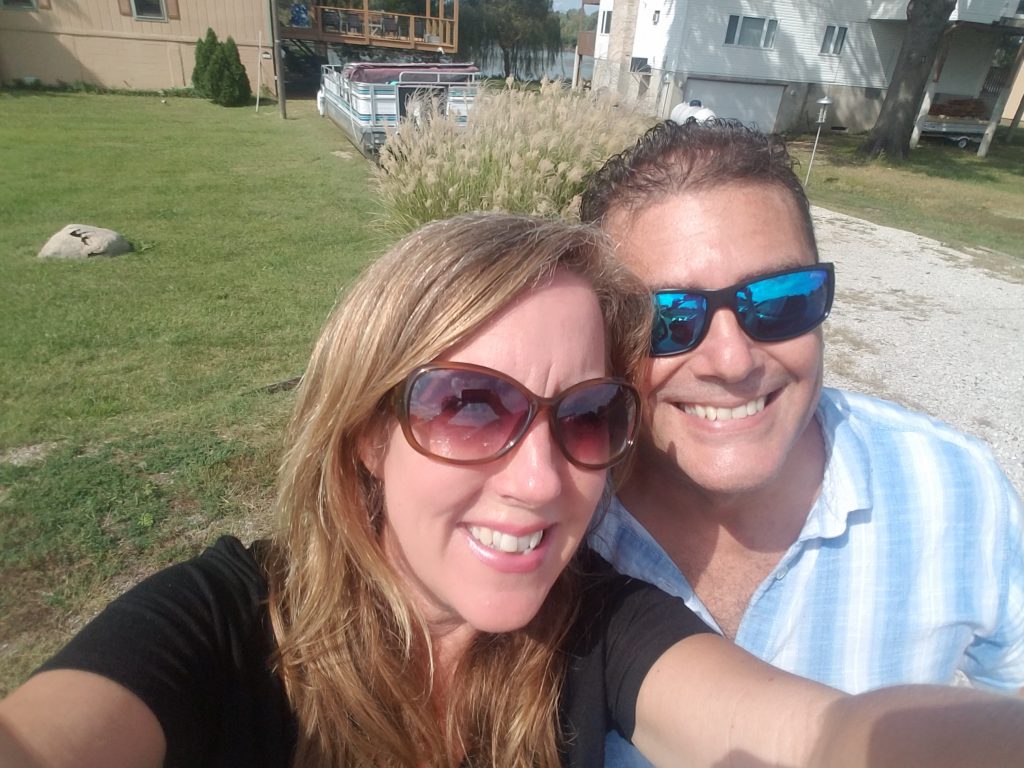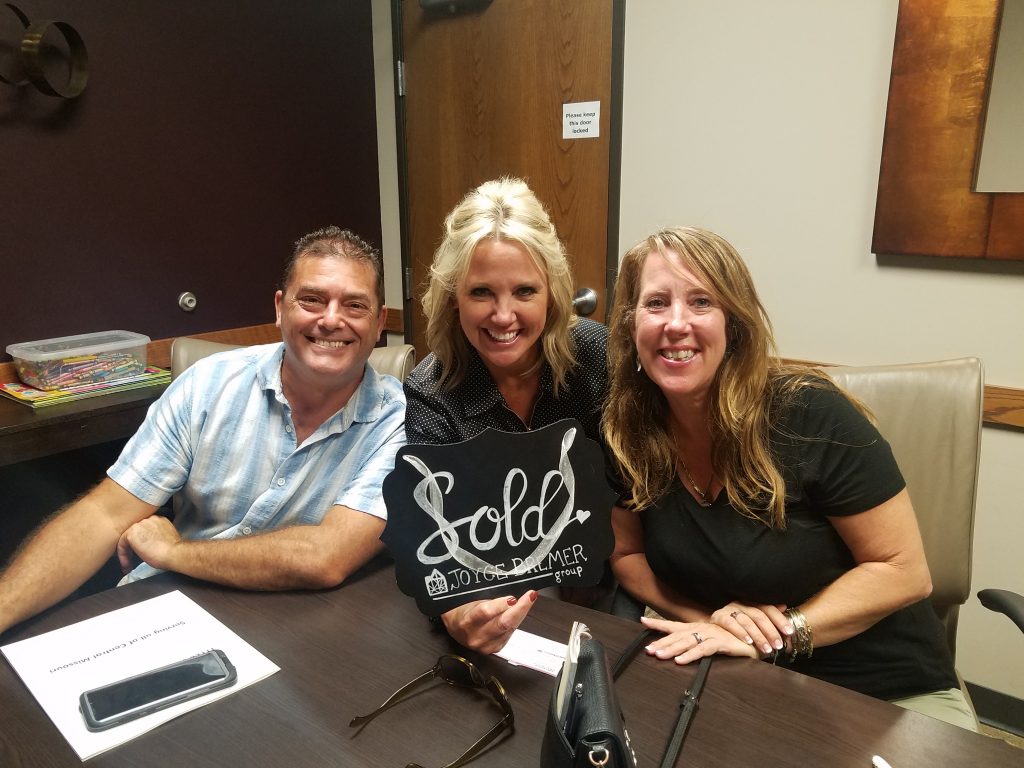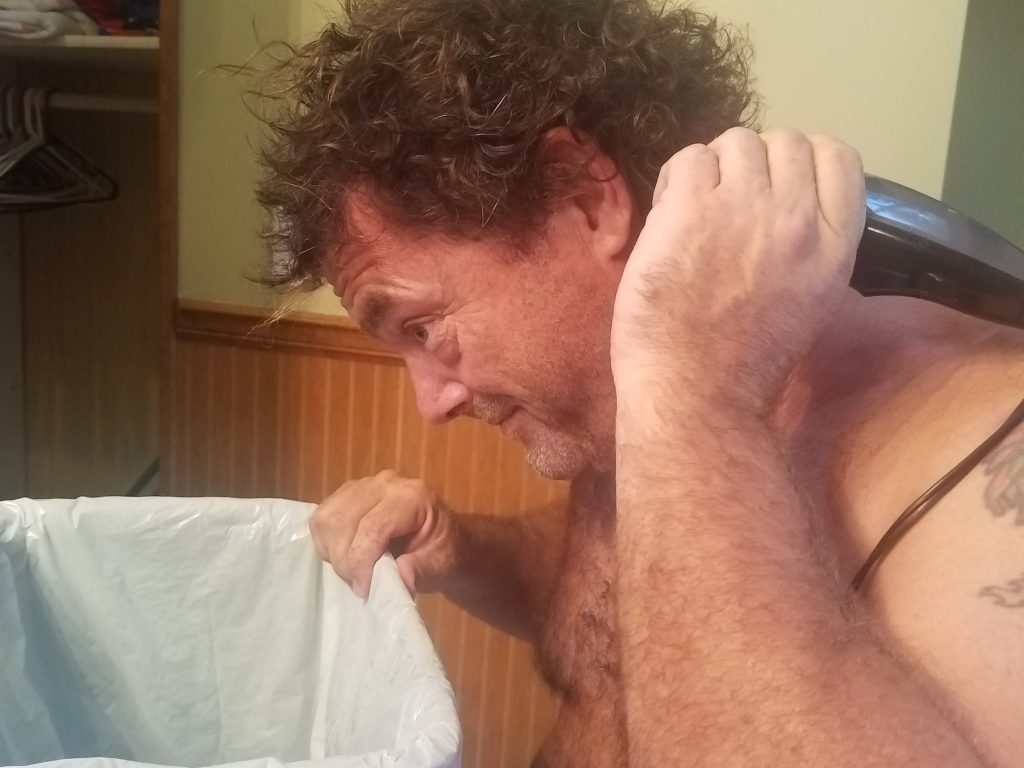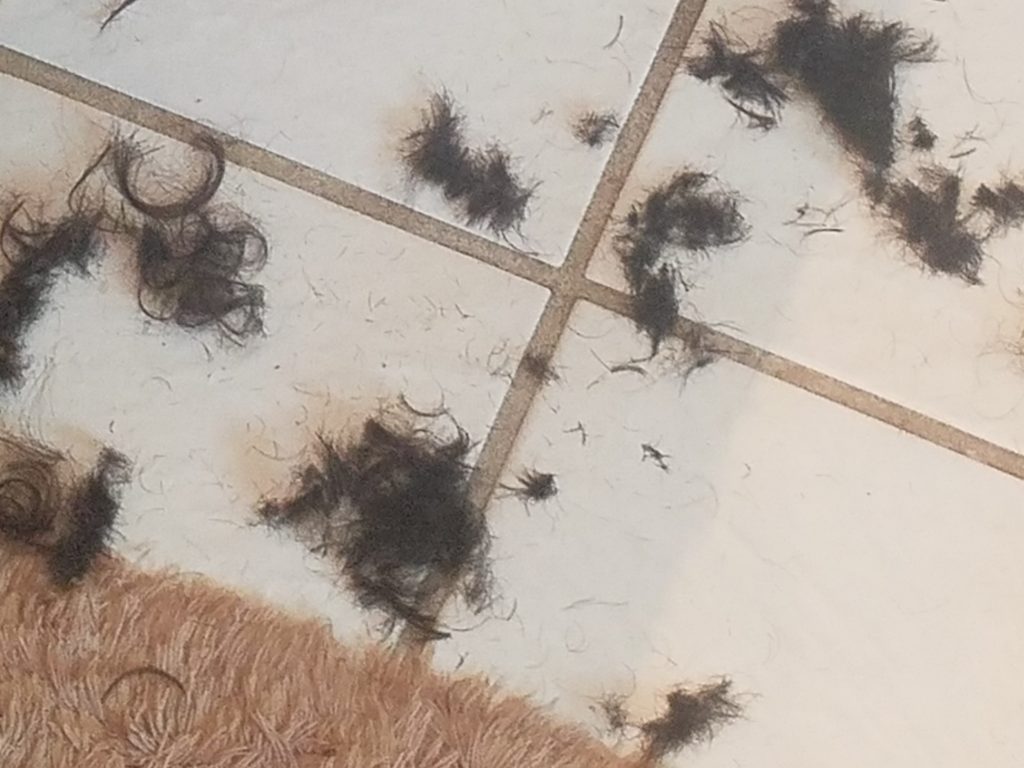 Leaving Coopers
My great friend Rita had decided she would 'come along' to Kimmswick and she was at dad's promptly at 7:50 am. We had unloaded and reloaded last night so we were all ready to go. Dad had decided he was going to ride until our first stop in Washington and friends Garnett and Charlie would pick him up there later tonight. At Coopers we topped off the gas, but only needed about 12 gallons, paid our bill for docking and refilled the water tank. We had left the boat a mess so Rita and I put the bed back together, ran the vacuum and attempted to find homes for everything. We got some breakfast to go and finally at 9:30, with the help of some old timers, we shoved off the dock. We were finally under weigh!
Jefferson City Welcome
The day started out sunny and warm, beautiful skies with big puffy clouds in our path. But behind us we could see storm clouds rolling in and it was getting dark. We outran the weather remarking on our great luck, until right before we hit Jefferson City. Then it started lightly raining and everything turned grey. The photographer I'd contacted to drone us as we came through was a no show so we didn't get any pictures of Prime Time with the Missouri River bridge and the state Capitol behind so that was disappointing. I had a vision of a parade of people, complete with the Mayor and maybe the photographer from the local newspaper, waving from the Noren Access as we went by. There was one guy fishing in the rain and he didn't even look up. Someone on the bluffs, possibly on Hasleton, videoed us as we went by, though.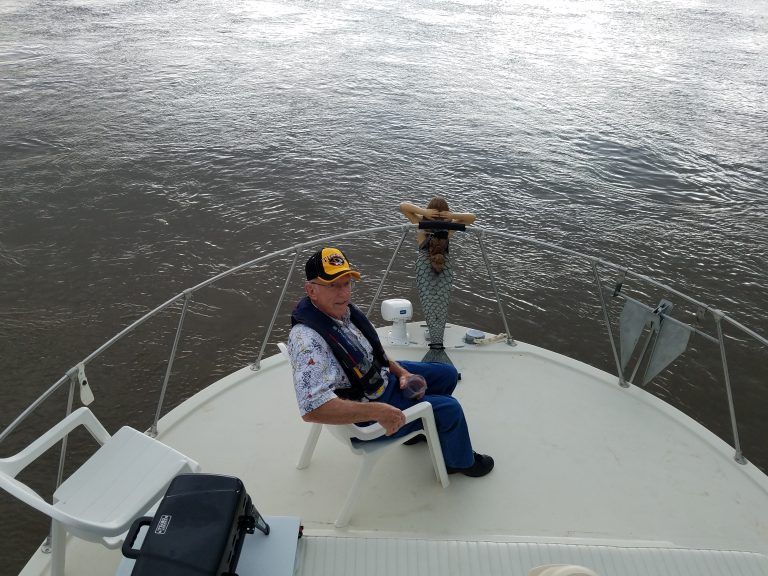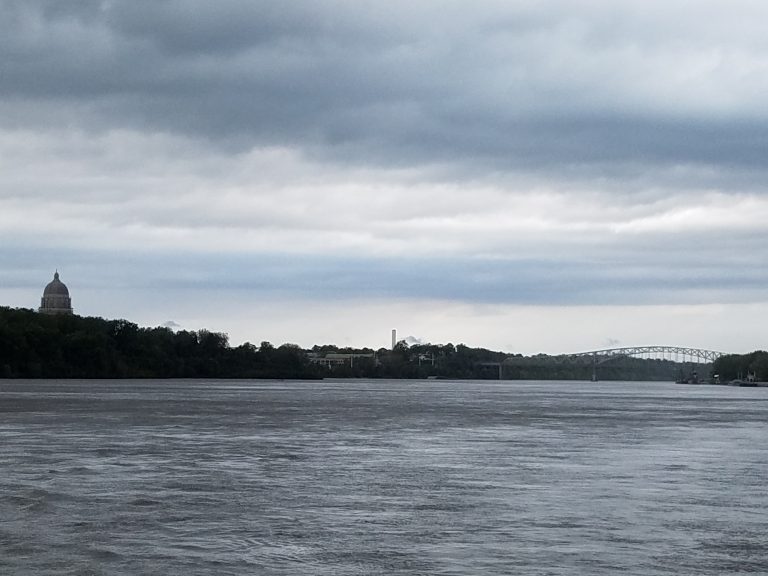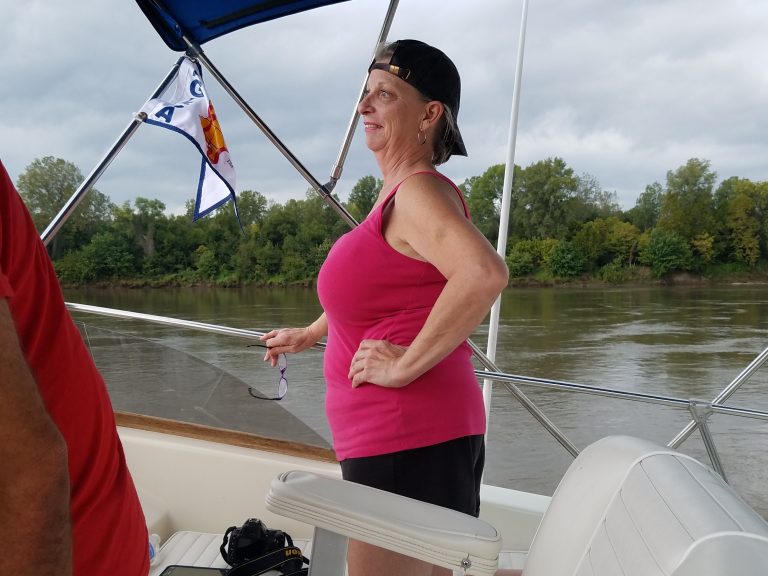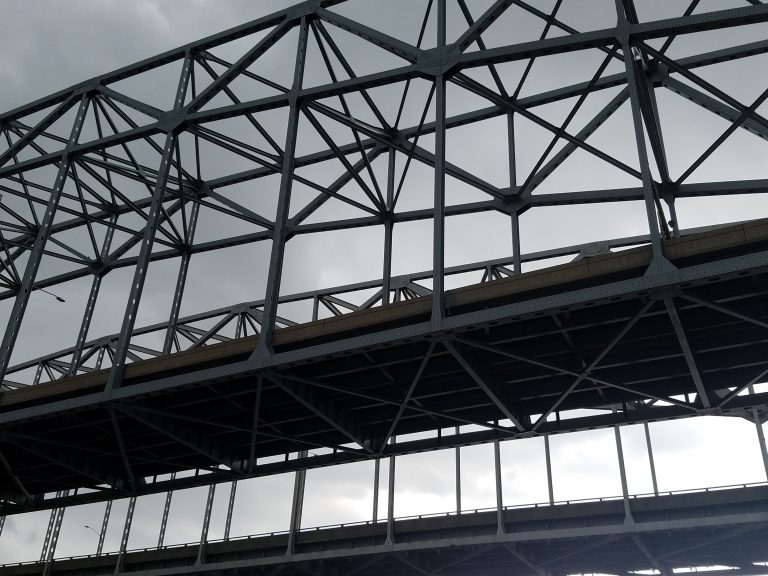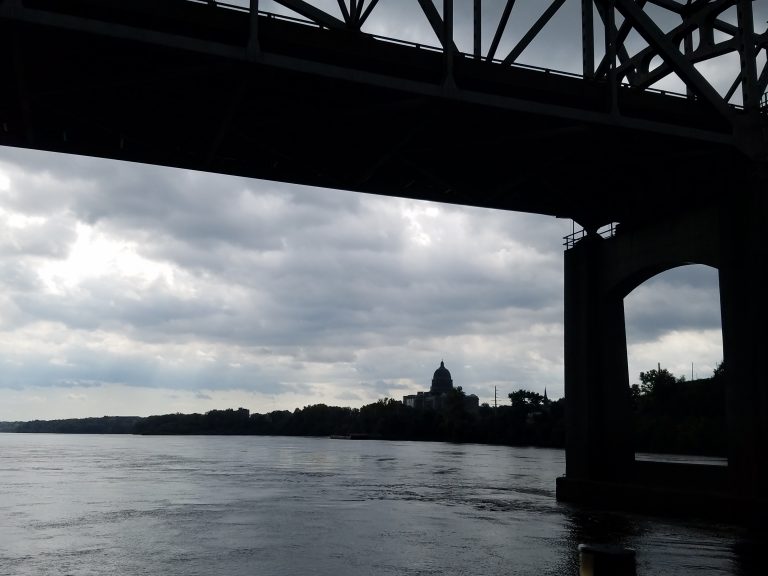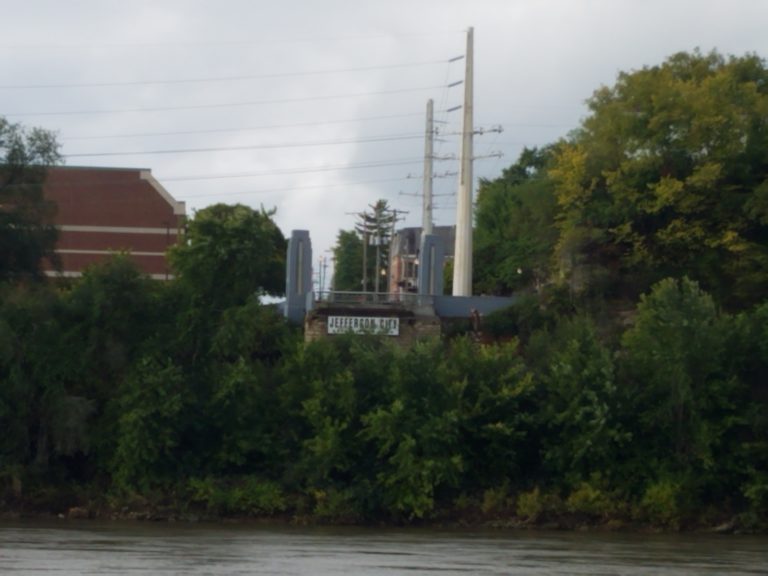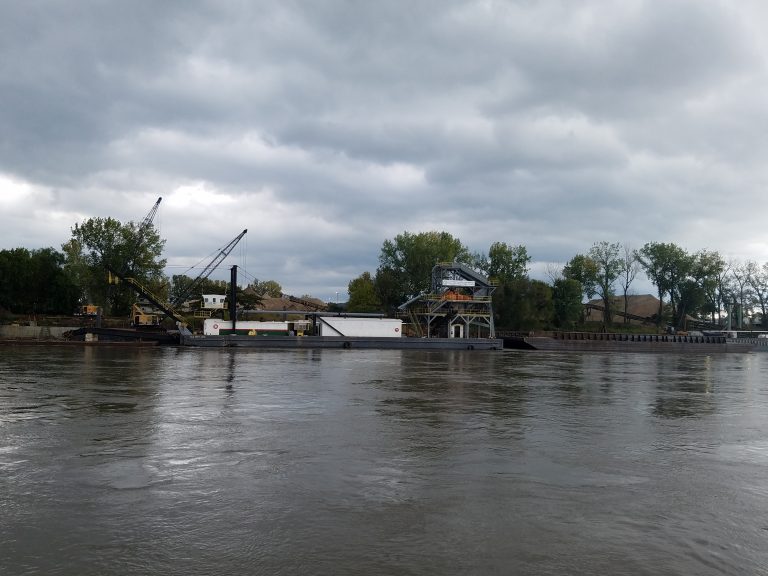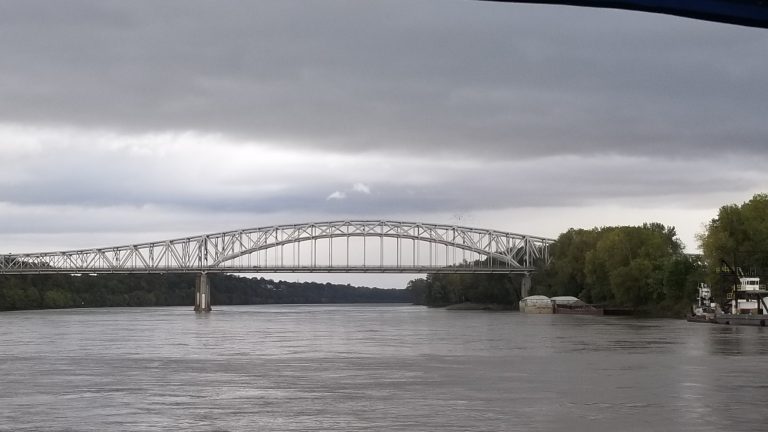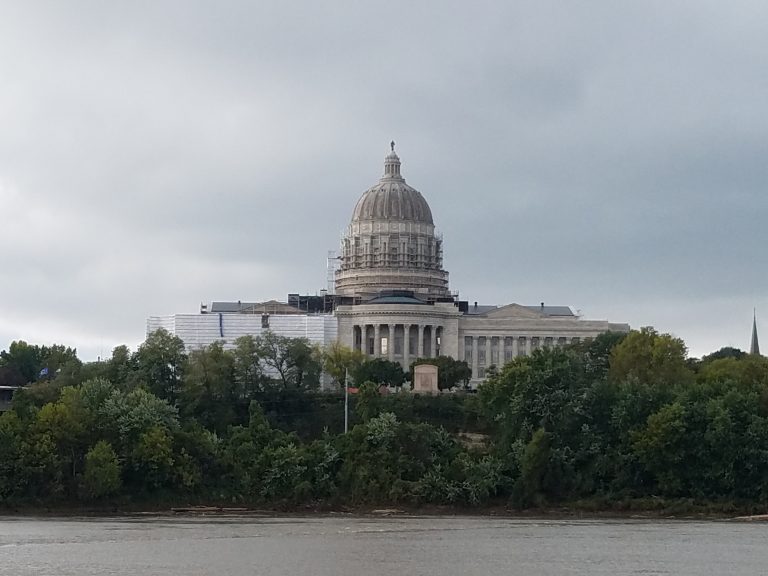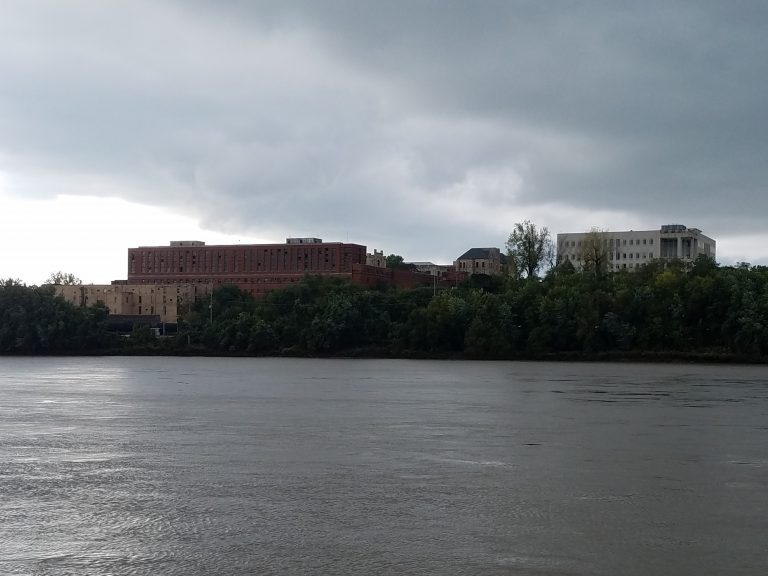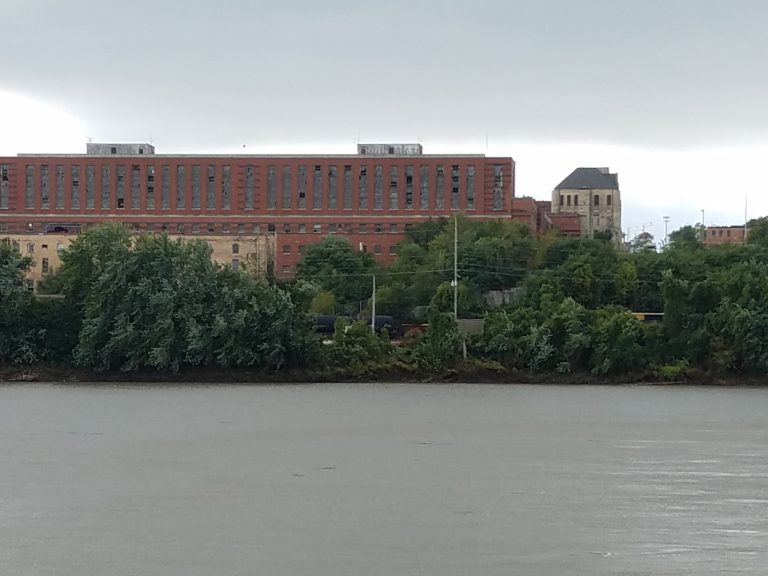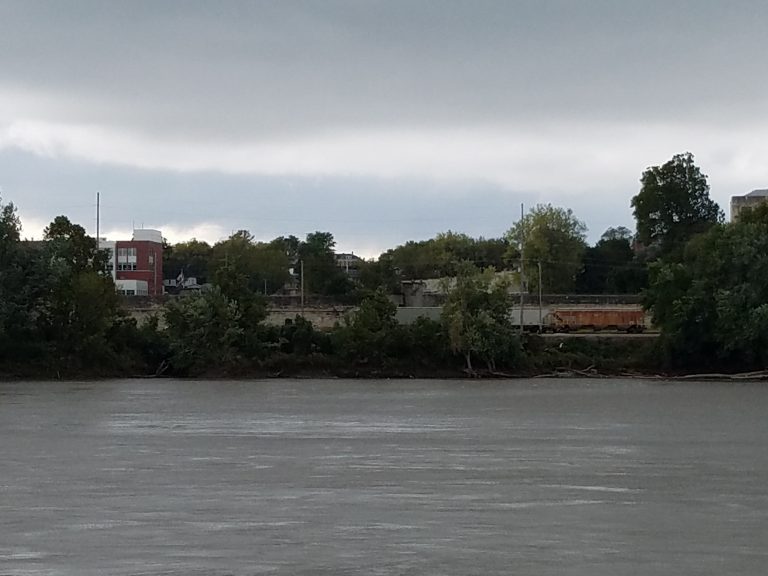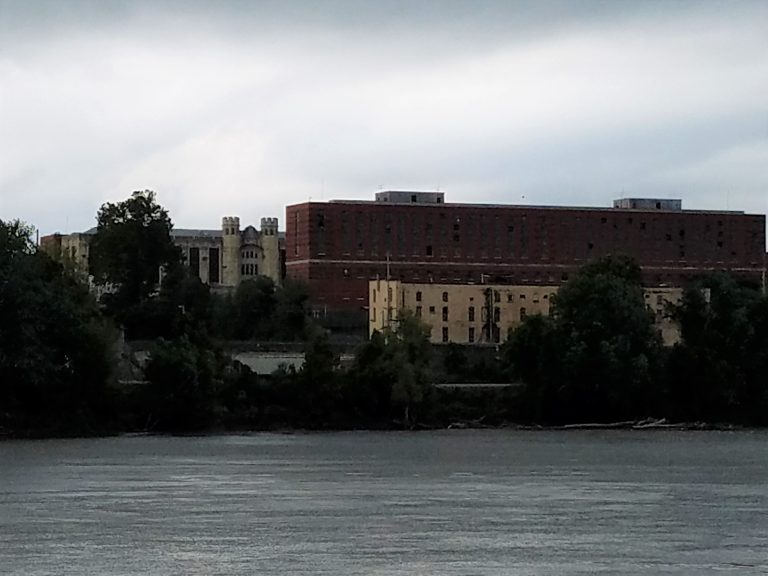 Osage River Detour
Soon we were at the mouth of the Osage River, our stomping ground. By this time it was pouring and looked bad ahead. Up the Osage, however, was blue skies. We rounded the long wing dam and turned up. Here we debated, for more than 20 minutes, if we keep on going to get to Washington by dark, or if we bring our new home, by our old home, just to say we did. Our friends Jen and JD were hosting a wine walk on Marina Road and lots of our friends would be there. We did the pros and cons: Sean said it's just an ego thing which we all agreed but didn't necessarily think that was a bad thing. We talked about what would happen losing a day and if that might keep us from making Demopolis, our hopeful destination. We still must be back in Key West by October 22 and the boat has to live in a marina from then until February. There's limited choices along the route and a city big enough to rent a car to drive the rest of the way to the Keys.  On the other hand, we're never going to be this way again on this boat, or maybe ever. We finally decide after dad solemnly tells us, choking up a little, that we should never have regrets. He says he regrets all the times that mom wanted him to do something, to go somewhere, and he didn't do it. So that was it. We were doing it.
I texted my friend Soda Popp, an Osage River fixture and character, to see if he was home. He lives near the confluence and used to have a gas barge that serviced boats on both rivers. Now he's a retired gentleman farmer who splits his time between hunting and fishing seasons in Missouri and the warmer climes and cheap Mexican food of Brownsville Texas. I tell him to go out to his dock and we wave and honk the horn as we pass by. We navigate by our experience since the Navionics don't have the Osage on the program, past Bonnots Mill, under the railroad bridge at Osage City and finally, River Front road. As we go by our house the new owner is standing on the patio and we lay on the horn and call out to him and laugh as he realizes who and what is happening. Sean says 'love what you've done to the place' and I say 'we'll be back to dock' and we keep going right on by. Surreal.
The wine walk party is ramping up as we round the bend and JD sees us immediately and makes his way down the dock. Soon everyone spots the big boat and starts walking toward the bank. Sean eases over and we have a conversation about whether their dock is cabled well enough to hold us on and before I even have a line on Sean has us pulled right along side. We put out fenders, tie up and answer a million questions from the curious. It's only around 3 pm and dad is excited to have time to tie up some loose ends on his projects. He changes his pick up arrangements and brother Kurt will come hang out later and dad will drive them home. We all hang out on the boat for the next few hours and get a lot of little things accomplished, making her look tidy and presentable for the parade of people who will come down and tour the boat. We give out lots of cards and stickers and tell our story repeatedly of how we brought the boat from Omaha and our plans to get to Key West. A lot of people thought it was super cool and something they would love to do and others were dubious asking how we cook, or do laundry or get our exercise. Dad is like a proud papa, pointing out his handiwork and especially loved showing the kids around, giving out statistics and explaining that holding tanks are for pee. Every visitor heard about how he 'mounted the lady'. Even Rita played tour guide for a while. It was fun. Our friends Sam and Nancy showed up and we all had a great visit; they later ended up sleeping onboard in the bunk next to Rita. At one point there was 14 people onboard at one time exploring and swapping stories. The crew stayed up at the pavilion next to the bonfire until almost midnight.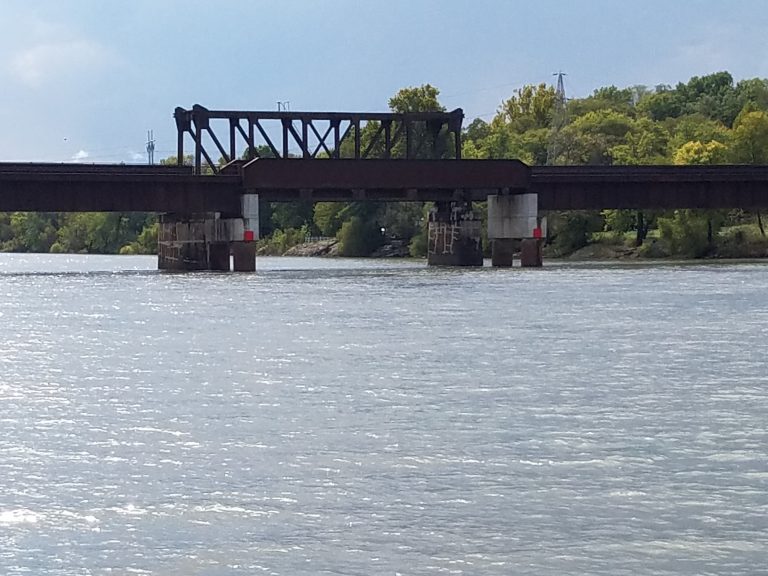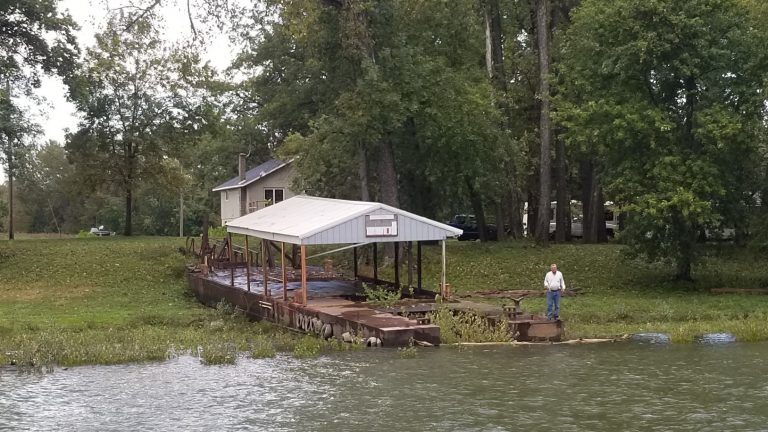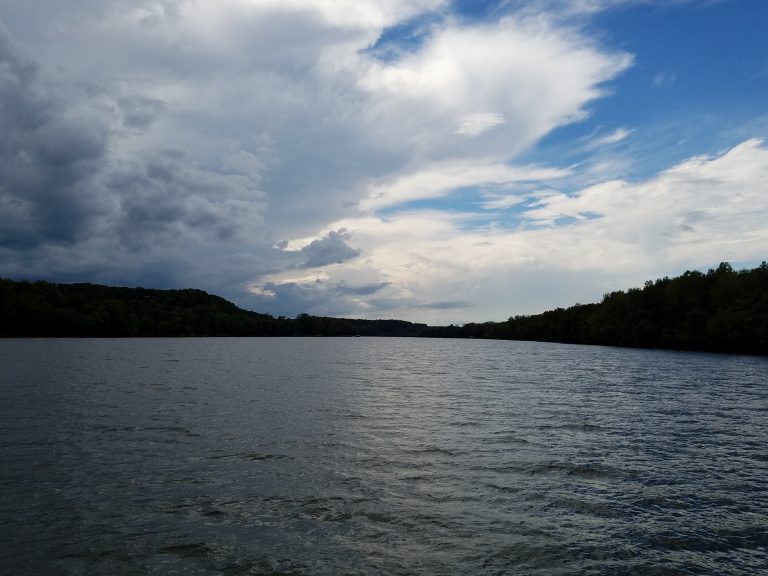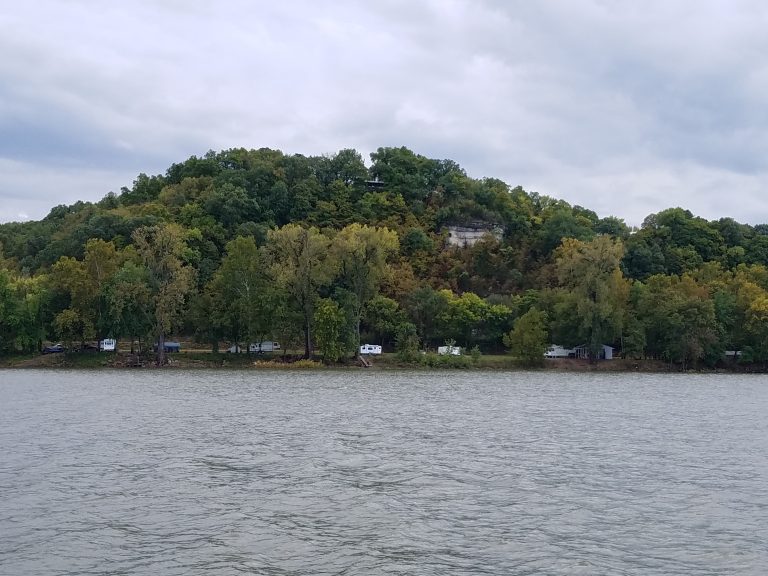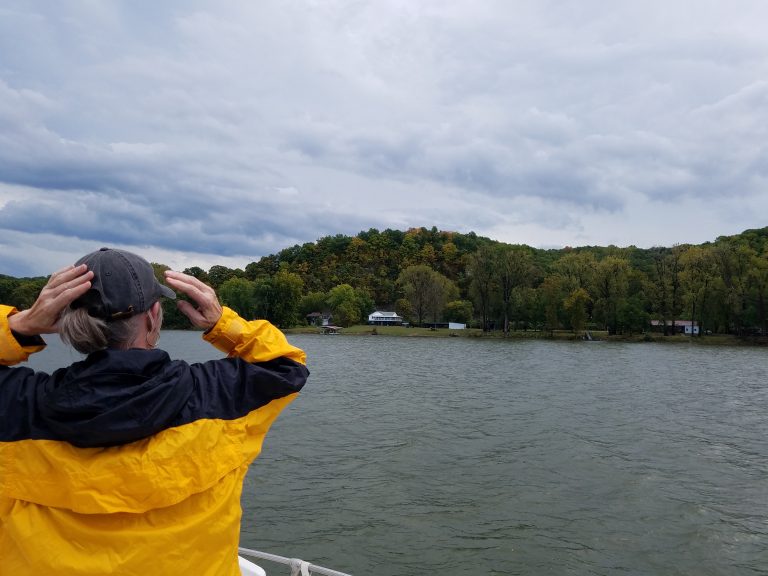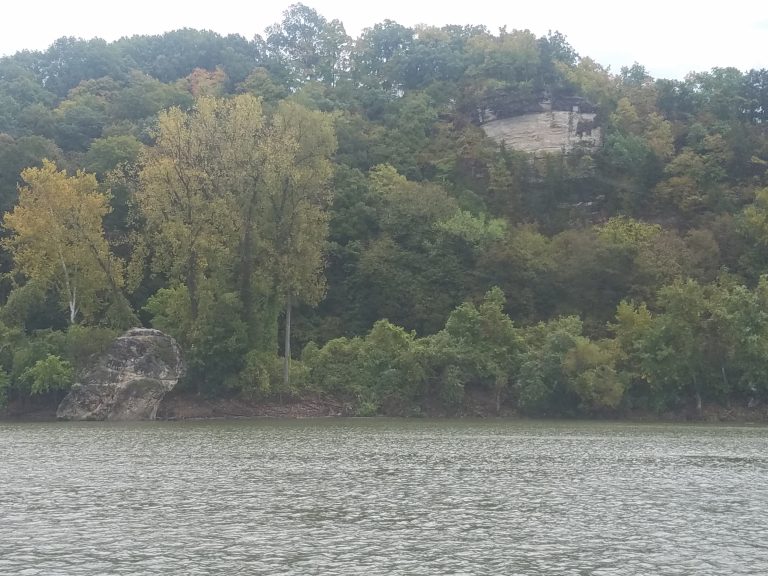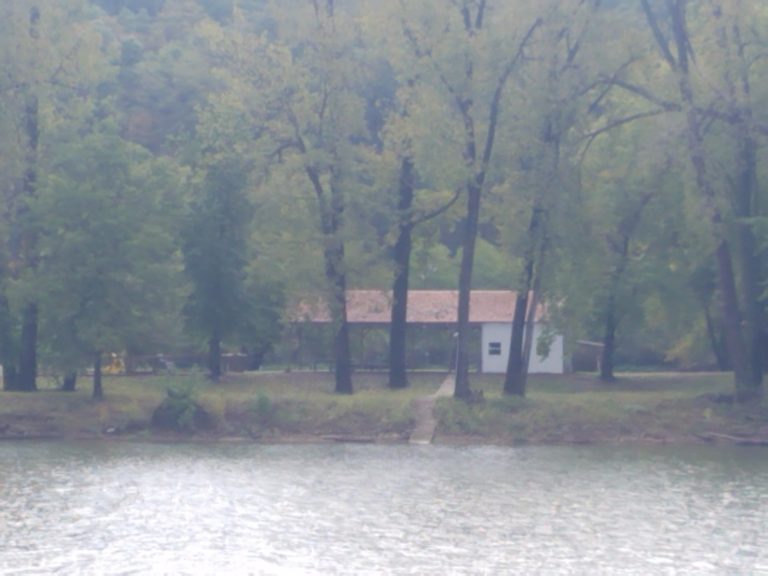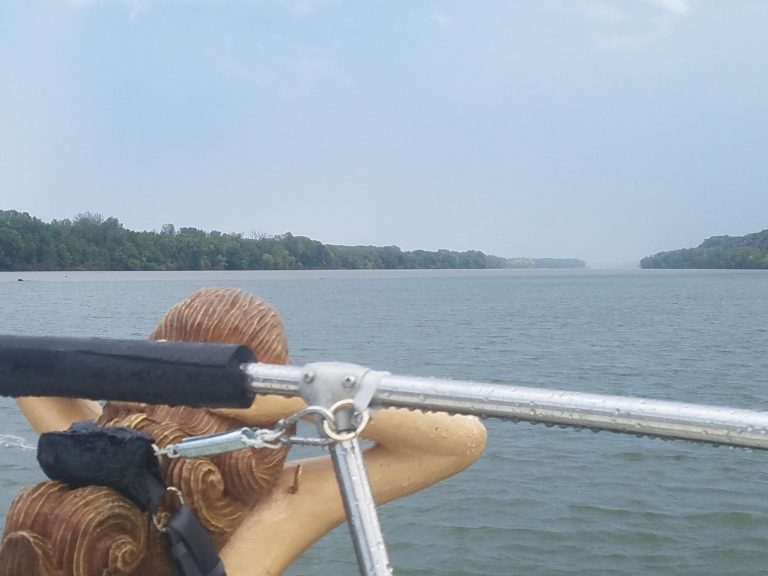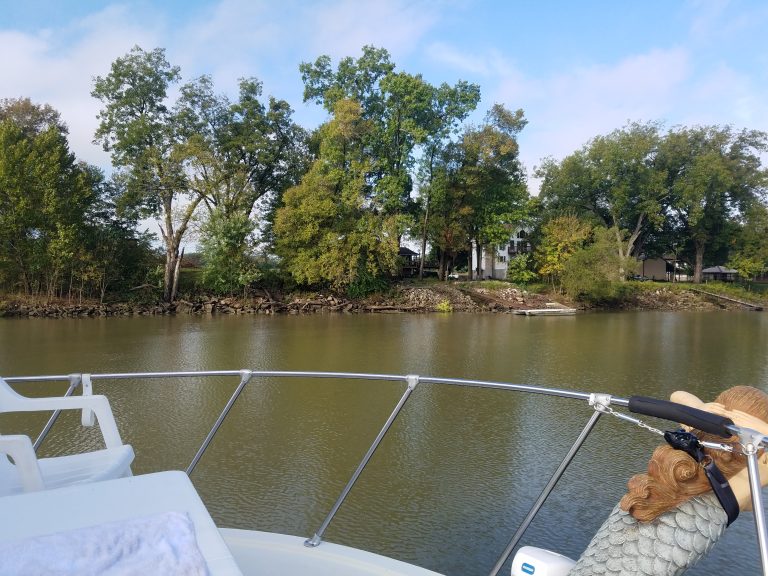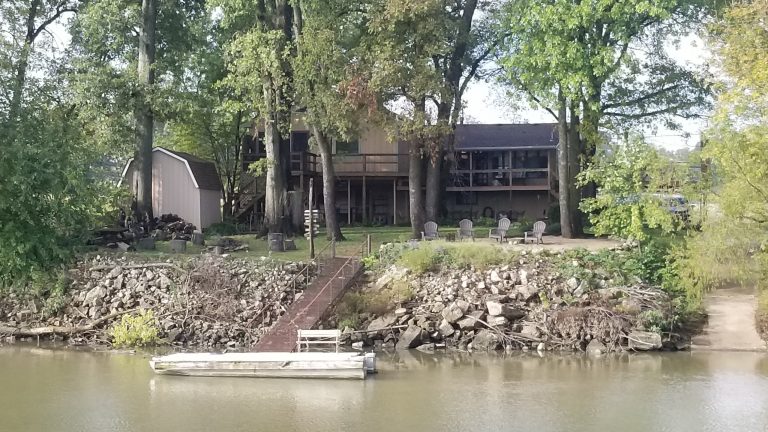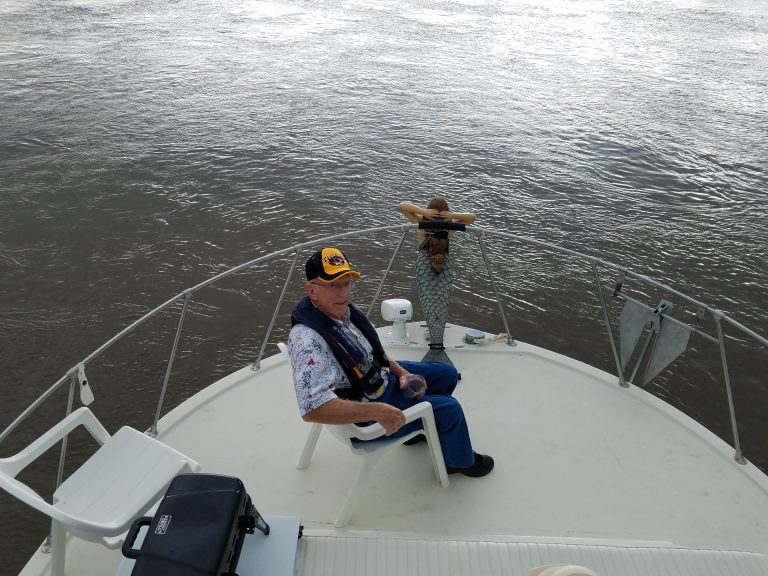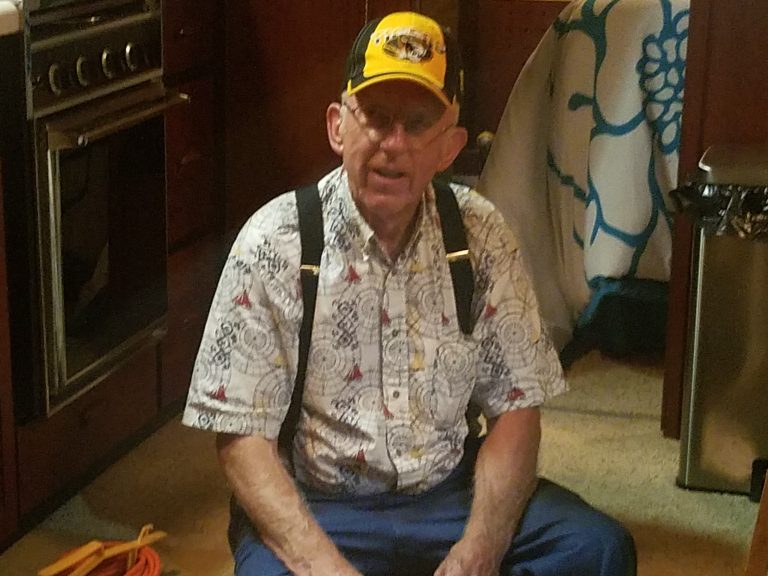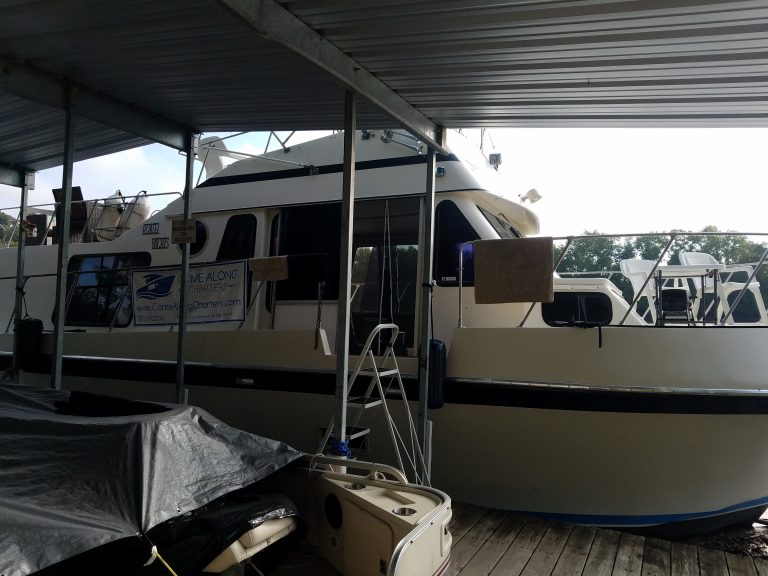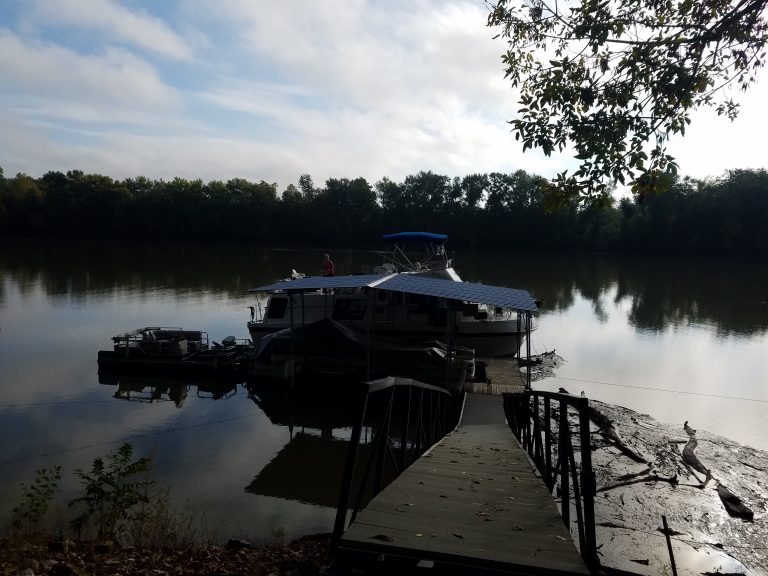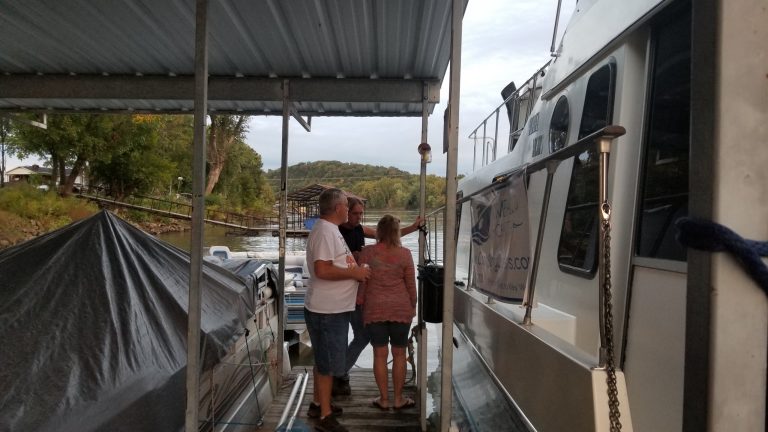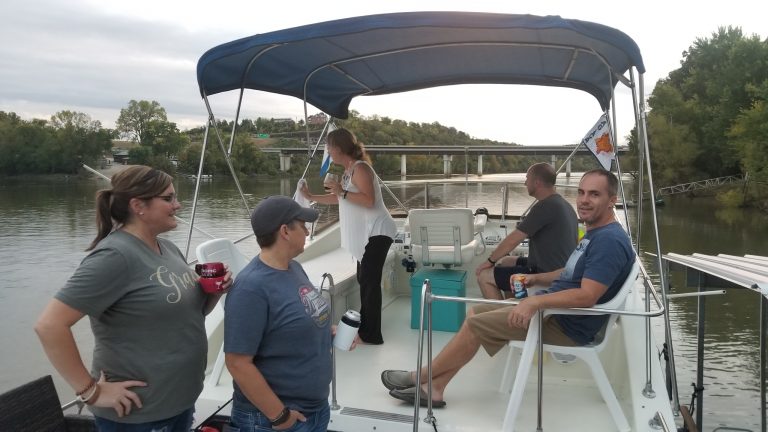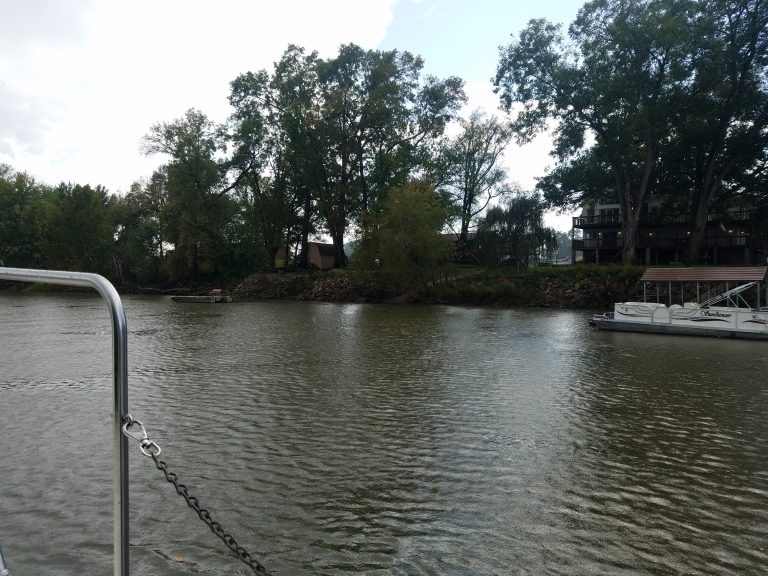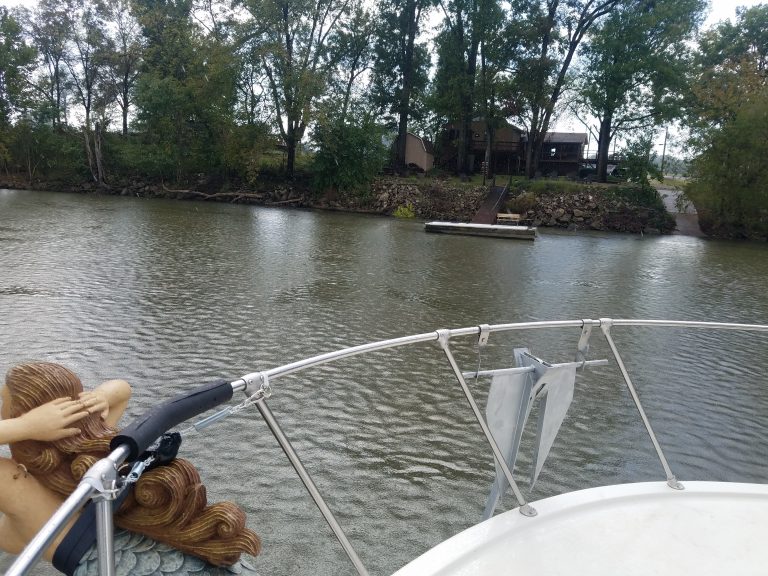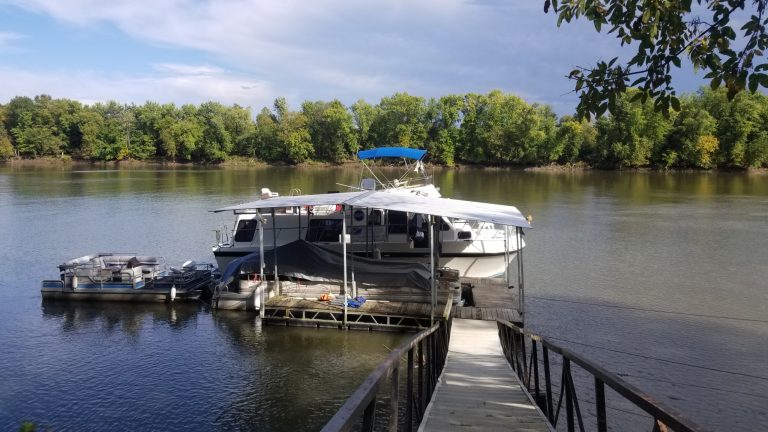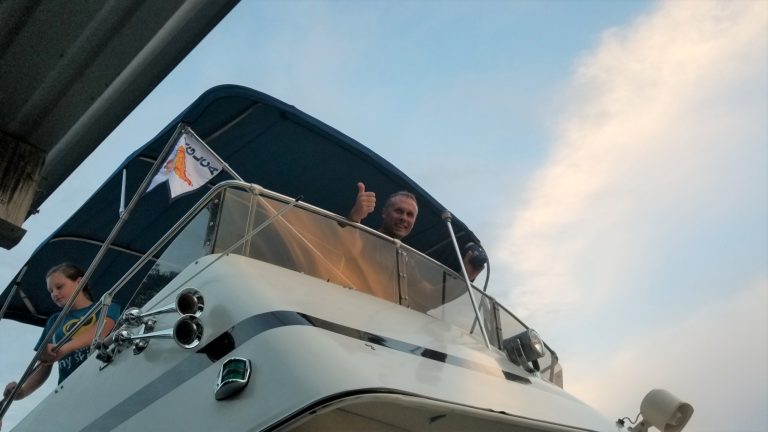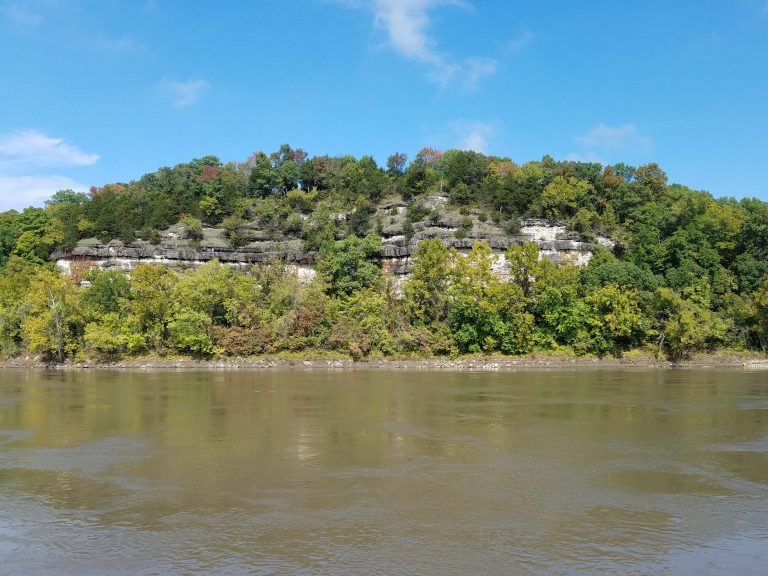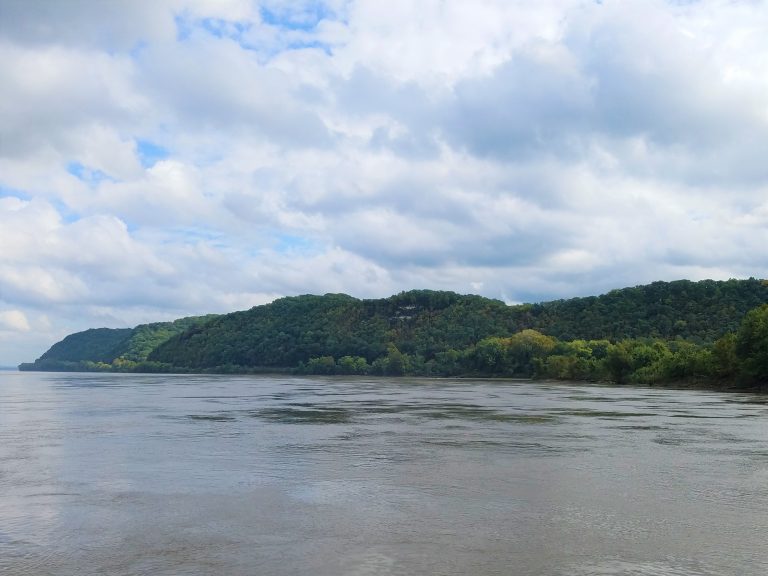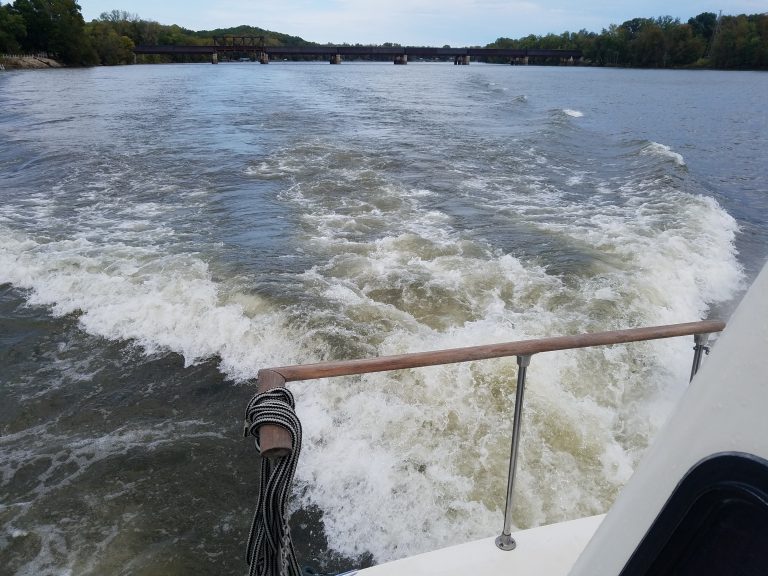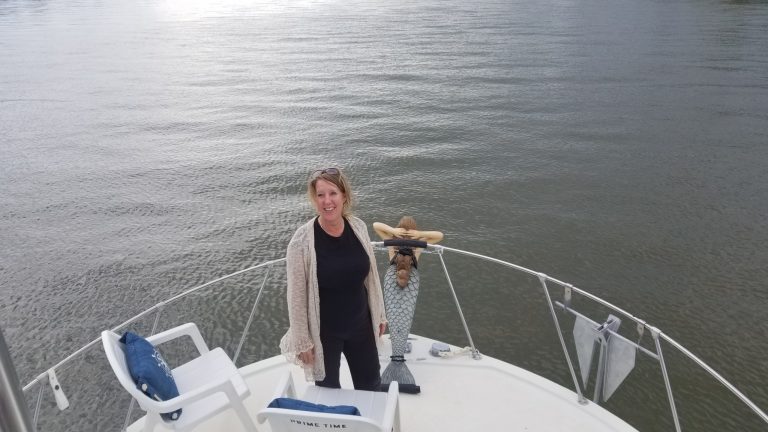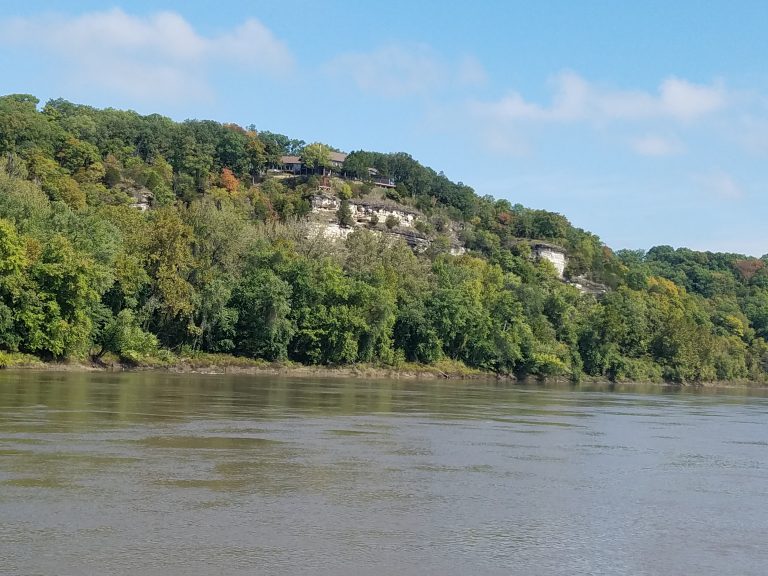 Osage River to Washington
The next morning we woke up to a 6:30 alarm but went back to sleep until after 7. Sam and Nancy rolled out of bed and made a quick exit. Sean dumped the gas cans into the tank and took JDs blazer to fill them back up. They had talked about going with us in the fun of the wine walk but Jen's still in bed and JD is moving slow and there's a pretty good mess so they, to no surprise, decide not to. We still didn't get off the dock until a little after 9 am and had lovely, sunny weather to head back down the Osage. I fixed a nice brunch and we ate on the bridge as we turned the corner back into the Missouri and headed on toward Herman.
I was working on the computer sitting on the front of the boat and kept hearing booms. It sounded like mining and then fireworks and finally we realized it was gunfire; rapid gunfire like from automatic rifles. Sean and Rita were above and started laying on the horn. We definitely didn't want to be part of their target practice as they shot at clay pigeons across the river from the Middle River conservation access.
At Herman we got some rain and it made picture taking impossible. We moved the helms station inside and drove comfortably, with the generator generating and all the modern conveniences of home. We were closely monitoring the weather and moderating our speed to get ahead or behind it as dictated. Mostly we luckily maintained between two cell systems that were spawning tornados, quarter size damaging hail, strong winds and torrential rain fall.
We had a tense moment after preparing for the storm. We had lashed everything down, battened the hatches and felt as ready as we could be as the winds picked up and the little waves on the Missouri River began to top out with white caps. Nothing ocean sized but still stronger than anything we'd seen thus far. Sean brought he engines way down and all the sudden, both stalled out. Every attempt at restarting was futile and we hurriedly discussed options as we turned broadside into the wind with no control. Should we drop anchor? Sean remembered he hadn't turned the upper helms station back to neutral to take control from the cabin and I climbed the ladder out in the driving rain to do it. In the meantime, Rita secured the grill and chairs on the forward deck that were blowing and ascended the back ladder to meet me on top. Sean yelled to try to start the engines from the bridge but no avail. He eventually realized the throttles weren't in neutral, corrected and the engines started right up. It was a tense, crazy moment we all managed quickly, efficiently and with best effort. After, however, we realized how dire the situation could have been and how ill prepared we really are. We vowed then to have 'dress rehearsals' for emergency situations and know ahead what each person aboard's role should be. We lined out the steps we should have taken; number one being anyone going outside needed to don a life jacket, first and foremost, not knowing how the wave/wind/rain + extenuating circumstances (like a fouled motor) would affect the boat. Going forward we will stow as many life jackets as there are passengers under the couch in the salon, as well as up top, with foulies for every person on a hook next to the door.
Coming into Washington there was still a light rain. Most of the ugly skies were behind us and the sun was starting to peak out in spots. Sean did a couple loops to check out the dock situation and plan our approach. Here the two city docks are at a weird angle to the current which meant we had to go out and 'float in' while maintaining a strong forward speed to maintain the same angle. It was a hard hit on the dock which pushed and strained it on it's rollers but once we were on, we were hard and fast on. The current locked us so tight against it we couldn't push it out to put on fenders. Oh well, it's certainly not going anywhere. We cleaned up and Sean did a little research and made calls for our next stop. Turns out Hoppies Marina in Kimmswick is totally full Monday so we're recalculating our plan.
We headed out for a nice walk around town and had dinner at Marquarts Landing, a Washington landmark built in 1855. We made arrangements to have the only sudo-uber driver in town come at 7 am in the morning to take us to fill the gas cans and a quick Walmart run. Rita booked a one way ticket on the Amtrak, which conveniently is right outside our door, back to Jeff City. And although we didn't really do much today, we were all pretty beat and called it an early night (which is why I'm up typing at 2 am). Tomorrow we'll be stopping at the arch, the gateway to the Midwest, and I'm excited. But I'm also nervous as it will just be Sean and I for the next bit of the journey. So far the extra hands have been…well, handy and while I know the majority of 'loopers' are couples, I'm apprehensive to go it alone. We'll see how that does.