It all started with a craigslist alert I'd set in May and a boat I'd spotted that looked really interesting…
Fast forward to the end of July and some serious star alignment…If Sean had not had to drive water taxi at the Lake of the Ozarks. If we had found a great vacation spot to use up the expiring Wyndham rewards points. If we hadn't just learned our housing in Key West for the season was falling apart. If the River house hadn't been rented for three days through AirBnB forcing us to vacate. If the Missouri River hadn't flooded closing the NP Dodge Park. Marina for almost a month. If the craigslist ad would have been removed – but instead showed a big price reduction. If any of those things had been different then we wouldn't have headed to Omaha Nebraska to look at a 40' Blue Water Boatel. It was something to kill a weekend. And even then, we're almost to Kansas City and Sean causally 'mentions' that another buyer was looking at the boat that evening. Our appointment wasn't until Saturday afternoon. STOP. NOW. We're at the gas station filling up and I make Sean call the owners who tell him they'll let him know how it goes later that evening. We decide to take the slow road and park it in Kansas City; I mean who the heck wants to travel all the way to Omaha only to find out the boat you're supposed to be looking at sold 12 hours before?
We stopped in this small town, and that one. We went to Independence to see Harry Truman's house, drove through the downtown and ate some famous Kansas City BBQ. We crashed a lecture at the Truman Museum and Library on the anniversary of the integration of black soldiers into the US Military. It was during that event Sean's phone vibrated and he stepped out to take the call that set everything into a motion neither of us were really all that serious about: the other buyer had to postpone his appointment. The owners made us 'first in line'.
We decided to drive on ahead to Council Bluffs and get a budget room for the night. During those three and half hours we went back and forth about the boat, weighing pros and cons, discussing and debating if this was anywhere close to the right fit. Previously we'd only looked at trawlers, single engine diesels, and sailboats that could be demasted. We had multiple goals: we've always wanted to cruise the Great Loop and now we needed housing in Key West. Was this the boat to do both? We pulled in after midnight and after several miscues, finally turned in for the night. In the morning we jumped on the computer to actually really research, in earnest, the boat we were getting ready to look at. We knew it had duel gas guzzling 270 HP Crusader 350's, a big minus on our checklist. We knew it's semi displacement hull wasn't ideal for cruising or going fast. Or big waves. We had pretty much talked ourselves out of the boat altogether and almost cancelled the appointment. Twice. But, we were here so we decided to go ahead. Why Knot? After a leisurely brunch at Wheatfield's and a stroll around the charming Omaha Old Market and the river front it was time to head to the marina.
The owner had already told us he would be there with his son who would drive the boat on a sea trial, if we were so inclined. We would have rather seen the vessel cold but they called to let us know it was ready to show. We had our strategy in place. I pretty much know within the first few minutes if I like a boat – the style, layout, smell all speak to me like a siren song. Sean would engage the owner and that would leave me to do an inspection. Outside first. If that didn't pass muster we'd do a courtesy walkthrough of the interior and then make our excuses.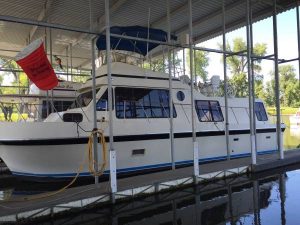 The owner's delightful wife met us at the security gate and showed us down the dock to the boat. Prime Time. The biggest vessel, by far, in the NP Dodge Marina, standing tall with it's upper helm station and bimini against its houseboat, day cruiser and speed boat neighbors. After introductions I proceed to slowly and critically circle the boat. I'm looking for dings, fiberglass issues or repairs, crazing, rub rail, weeping around hardware and windows, through hull fittings, and basic overall condition. For a 41 year old boat it's in remarkable shape. Some discoloration at the bow indicating a fiberglass repair but it looks done right. So far so good. Sean asks if I want to go onboard and I do. I climb on and proceed to the bow. I'm checking for soft spots, window seals and rubber condition, pitting on stainless and stability of rails. I'm examining the teak. All seems pretty good. The passage from bow to stern, more on the port side, is very narrow and I have to turn a little sideways. Or maybe I've just gained that much weight. I make my way to the stern and notice a slight condition issue with the top rung on the ladder to the mid-deck; easily replaced. I climb up 4 rungs and repeat my checklist looking over the roof air conditioning housing – original equipment and looking brand new. Then onto the helm. It's simple, not much equipment and the cushions and captain seat are bright white and in excellent condition. The bimini is blue sunbrella and it's obvious it's been undercover. I also notice new snaps for the matching helms station cover that the owner just had custom made. He's just installed a new pleixglass flybride windshield and Bluetooth stereo (which isn't working). There's six heavy duty white plastic chairs stenciled with "Prime Time" for extra seating. I'll leave the operational part to Sean but I must admit I'm impressed.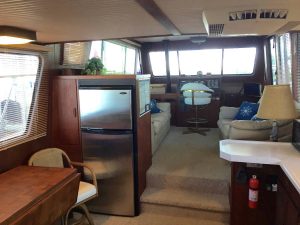 So now it's time to check out the inside. I was drawn to the interior layout by the pictures on the ad. I'd never seen a setup quite like this one so I was super curious if I would like it as much as I thought. The sliding door into the salon opened smoothly and it was nice and cool upon entering. I immediately notice the interior helm station with all original 70's equipment. Again, simple but functional. The sole is covered completely with newish looking caramel speckled medium pile carpet. I of course would love wood but that can come later. I do notice all the walls are a beautiful oiled teak and the light…wow…the whole boat is flooded with light, despite being in a covered slip. The windows are covered in peachy-mauvy custom levelor blinds that look expensive (in the day). The walls show no signs of water leaks at the ceiling. A couple places around the door and toward the sole of the starboard side show some water damage but it's not bad. There's some evidence of mold but it wipes right off; evidence the air isn't run all the time. The headliner is white vinyl, tufted and has no discoloration, rips or separations.
Just a few steps down you're in the galley area with a spacious work station, loads of storage behind teak louvered doors and a gimble electric stove. A new stainless steel, mid size 110 volt fridge is next to a full size locker with shelves. A teak drop down table and two heavy swivel chairs take up too much room to open either the pantry or fridge. There's also a heavy teak ladder straight up to a hatch in the mid deck that could be handy for passing up food and drinks but you wouldn't want to access after too many adult beverages.
The large hatch in the galley floor leads to the storage and equipment access below. It's carpeted and dry. The original hot water heater is starboard and a pair of battery chargers to port. Aft is a door and horizontal access to the engine compartment. Fore is the 40 gallon holding tank. Also port is two plastic bins filled with cement bricks. Ballast. The owner was meticulous with his maintenance in the day and every spare space is filled with old parts, new parts, tools, hardware and all other sorts of bits, neatly bagged, boxed, labeled and stored in wire bins. One could open a Boatel Marine store with everything that's down in this hold. There's also signs of some mice occupation.
Past the galley is the state room. It too has lots of windows and natural light. There's one tiny hanging locker and an after-market dresser. The queen size bed takes up most of the space and has new tropical looking bedding and a matching canvas picture over it. No real room to walk around the bed or have a bedside table. Someone has to sleep up against the wall and climb over. The compartment for the twin 350 Crusader inboards and Onan 6500 genny are hidden under three separate hatches in this room and may be a pain to access with the bed in the way. The two fifty-gallon water tanks are port and starboard next to the engines and 370 gallon fuel tank is to stern. There's an overhead hatch and door to the stern that is showing some water damage. The interior stern also offers some built-ins but with the bed and dresser they're pretty much inaccessible.
Past the inside helms station is four carpeted steps leading down to the head and lower sleeping bunk. There's more built-ins and cabinets, each with their own wired-in lights and each one filled with more supplies. There's a vanity, of sorts, in the hall with a mirror and storage compartment above and anchor locker below. The floor feels spongy, so I peel back the carpet to see the plywood below with access to the drain pump to the shower, which turns out had recently been replaced. Just needs the plywood screwed back in place. The macerating head has a push button water eliminator and fills with fresh water automatically. The exhaust fan is not working. The sink has a small basin with two overhead cabinets. The shower/tub combination is small with a strange configuration that makes me question its functionality. That's an important part to living comfortably on a boat.
Under the salon is the 'guest' sleeping quarters. It has only about four feet of head room. There's two bunks with custom mattresses on the built in fiberglass platform. The port side is short – only 5.5' but the starboard bed is over 7 feet long. Both are in between twin and full size. There's also a door on this side to access the storage hatch. New nautical bedding makes the space look inviting.
After the preliminary inspection we visit for a bit with the owners and I give Sean the signal that I like it enough to want to do a sea trial. This gives us an opportunity to see and hear the engines, test the genny and get a general idea of how she operates. Getting out of the slip and turned around in the tight dock space was easy thanks to the twin engines. We exited the marine into a very full Missouri river (it had only been reopened to traffic the day before) and headed north. We putted along for a little bit then opened it up. Wow, what a wake! It wasn't long that we all just relaxed into the drive; green scenery and beautiful mild sunny day made it easy. Soon we were old friends and enjoying stories of the owner's 30 year history of cruising the Missouri. They were the second owners, the boat having been transported over land from Lake Michigan. They raised their two children with frequent weekend trips, entertained his liquor distributorship clients and even once took out the Governor. After many questions and poking into just about every system and instrument, we headed back to the marina.
It was a great ride. It was a great boat. We liked it. Three hours later, we said our goodbyes making arrangements to call the owners the next day.
We left there and checked into Harrah's Casino (using said Wyndham points) and had a (mediocre) steak dinner at the restaurant overlooking the river at sunset. By this time we were pretty sure we were buying this boat. Now just to figure out what we were going to do with it. We knew it wasn't staying at NP Dodge Marina 6 hours from our house. But could we run it down the Missouri River and catch up with the Great Loop Route in St. Louis and then navigate it all the way to Key West? Did the boat have enough fuel capacity? Did we have enough money to pay for said fuel? How long would it take and did we have enough time? What route would we go…Mississippi or Tennessee River? Should we just have it trailered to the Keys and start from there? What would that cost? Or trailered to the Lake of the Ozarks and use it as a floating condo? And less importantly, should we change the name lol? So many options, each with its own variables and required research. And then we'd come back around full circle debating if this 41-year-old semi-displacement fiberglass twin gas engine 42 foot old gal was the boat of our 'dreams'. So we did just that. Went to bed to see how we'd feel the next day.
I wake up first. Around 6:30 am. I'm laying there trying so hard not to move and Sean says out of the darkness "you want to talk, don't you?" Oh boy, do I! I told him my 'vision', the dreams, my overnight thoughts. We both immediately turned on the computers and got to work. We didn't need a floating house or a vacation, we needed a business. A legitimate, tax deductible way to make the whole thing make sense. My dad had told me about my mom's cousin who had a big boat they navigated the Loop with in sections. Along the way they invited people to come aboard and enjoy the experience for a short piece. Of course, Sean is a 100 ton master captain and drives boats in Key West and the Lake so that was in place. Prime Time is undocumented meaning that it's not registered with the Coast Guard so assets aren't protected so that would need to be fixed. It's not a certified/inspected vessel so it could only take six passengers plus crew and that's fine. So what do we need?
A company name
Decide on ownership
To form and register an LLC
Obtain an EIN with the IRS
Insurance to be able to operate the vessel commercially
Open a bank account/apply for a business credit card
Register a website name and web hosting
Register a facebook page (and other social media)
Design a logo
Get business cards, custom shirts and logo decals (alright that's much, much later)
So before coffee, before breakfast, before a shower, we started down the path of our new business. While Sean researched insurance, transport companies, fuel rates and a myriad of other details, I went about dealing with the rest. I already had a look and feel in my mind for the business; clean, simple, classic, a nice shade of blue to match the boat. I tested out a few names on Sean who was only half listening. I was thinking about the concept of picking up people along the way. We discussed an internet blogger, SV Vagabond, who takes their fans out as part of their 'sponsorship' packages. That couple has such a successful social media following they scored a brand new yacht out of the deal! Yes, please!
Tag along. Come with Us. We'll take you out (had that name for a while). A few others but each name could be perceived as we were looking for company and not a paid or shared expense experience.
I tested out Come Along Charters.
It sounded right. I did a few internet searches and couldn't find any other companies with the name, anywhere. The website was available. The facebook page, too. I pulled up the Florida registration site, SunBiz, and it was not already registered. Sean liked it (and later would say he still wasn't paying attention) so I snapped it up. $150 later it was all done. I pulled up a piece of art I liked that reminded me of the boat, tried out a few typestyles and a logo was born. I wrote a quick mission statement, uploaded some boat pictures and created a facebook page. I parked a website to be designed later. And in a couple hours, it was done. I know it shouldn't be that easy…and normally I would agonize over all the details and try things on and out ad nauseam and not necessarily settle on anything at all. So ultimately, all this may not be perfect, but it's something and it works to get us started.
We're. In. Business!
Sean called the owners to set up a meeting to discuss terms. We worked right up until time to leave, jumped into clothes, checked out of the hotel and into the car (still no coffee, food or shower lol). Once on the boat and after a lot of small talk, I attempted to negotiate but it wasn't easy by now – these people had already become friends, family maybe, and the boat was already reduced and a really good price. We knew going in the number we'd like to be at but also agreed we'd go up to asking. We hoped to negotiate out the slip and trailer included in the price; we would need neither. But they needed them even less. Finally, Sean just came out and said how close can we get to X; the owner said X, meeting half way, we said done and everyone shook hands. And we hugged which might sound weird, but the owners were so happy to see someone who knew boats and wanted to actually use Prime Time have her. The wife confided in me they too had a dream to do the Great Loop. She had sent off for the charts, gathered information, done the research and then both of their health went south – he had an auto accident and unrelated knee surgery and she breast cancer. That, unfortunately, derailed their plans. Plus, now with grandkids they spend more time relaxing at the lake and taking care of the boat had become a hardship. It was a good fit for all.
We decided we'd stay on the boat that night and get a feel for it. After grabbing some food and running to the Goodwill to buy a set of temporary sheets, we settled in to our first 'camping' trip at the dock. With just the bare minimums on the boat we were comfortable enough. All the dock neighbors were curious to know who these new folks were on the boat so we introduced ourselves and took cookies around to make a good first impression. It was a fun, boisterous group and waves of karaoke drafted in and out well into the twilight. That night it rained and the sound on the roof was loud and early morning the carp started banging on the hull but otherwise we slept ok with the windows open and a nice cool breeze off the water. We woke up that morning kinda freaking out a little. What did we just do?
We freakn bought a boat!