Better late than never
It's Sunday in Omaha at Dodge Park Marina and we're aboard Prime Time with Come Along Charters and our guests Mary Ann and John. Today we start our big journey.
Omaha to Brownsville – first gas stop
We got up early to begin preparations for our departure. I was too excited to sleep anyway and couldn't wait for daylight to start pestering Sean with questions, ideas and to do lists. We rousted Mary Ann and John and we took them to our favorite breakfast diner in Omaha, a little retro dive called Harold's. We had just ordered when the priest from the church they had went to mass at walked in. Mary Ann engaged him in light conversation and we mentioned we were getting ready to go out on a new boat, on a big adventure and a little good word for us would be appreciated. So we got a blessing, right there at Harolds Koffee & Donut shop! We ate large – pancakes, eggs, grits, hash and their famous hash browns and topped it off with Harold's homemade donuts. We waddled out and ran to the Dollar Store for wash cloths, filled up the rental and a couple more 5 gallon gas cans and then headed to the awesome Sunday farmer's market at the old mill. We scored fresh tomatoes, cucumbers, watermelon, cantaloupe, kale, corn on the cob, pickled beets, carrots, radish and fresh herbs. We'll be eating well on this trip!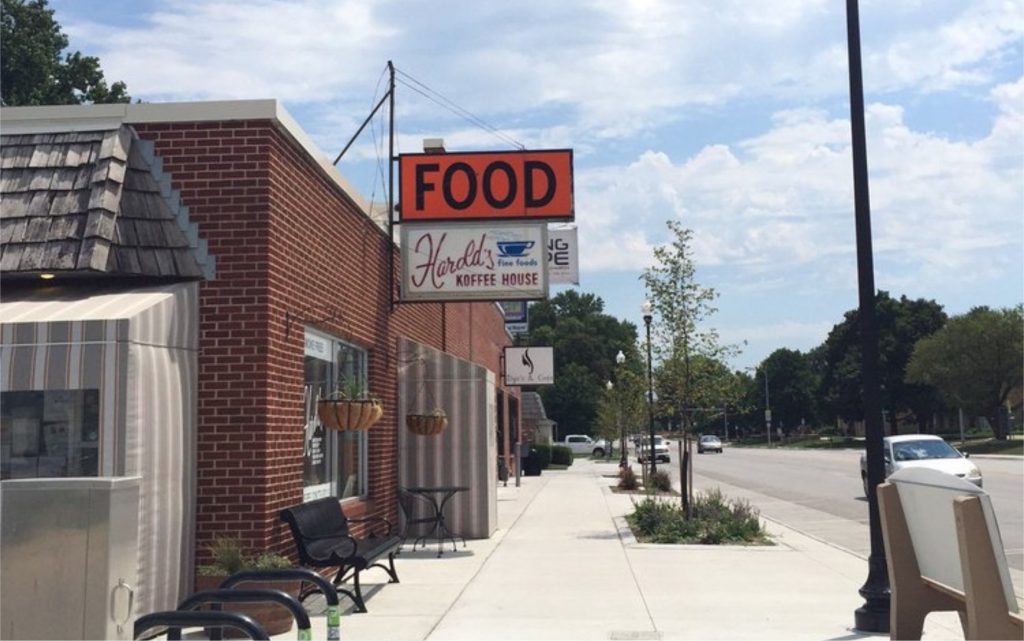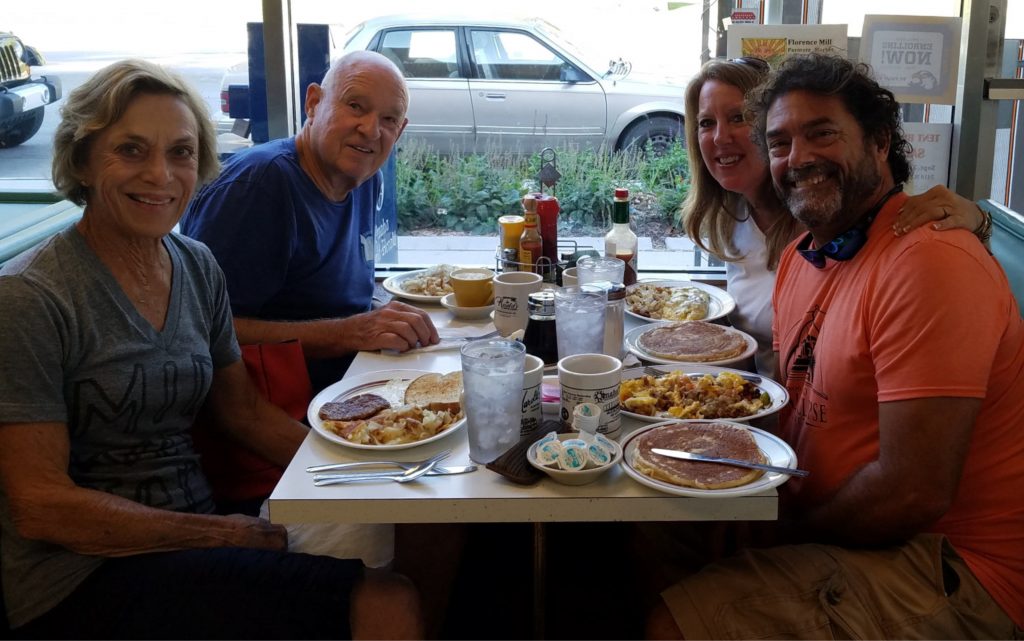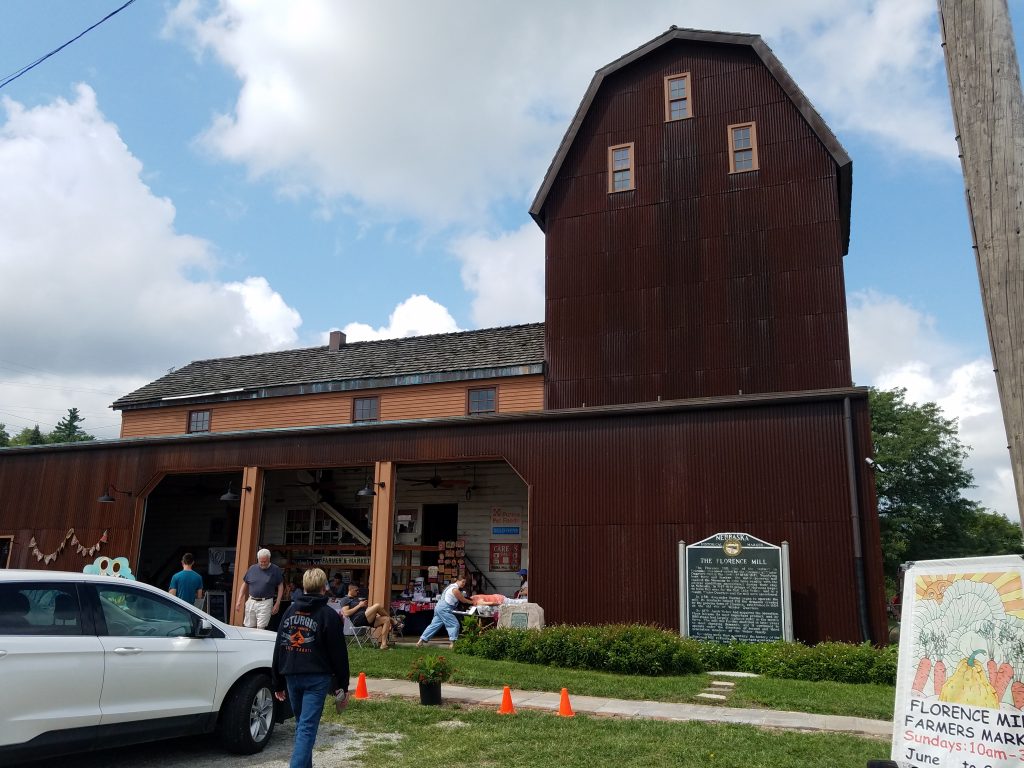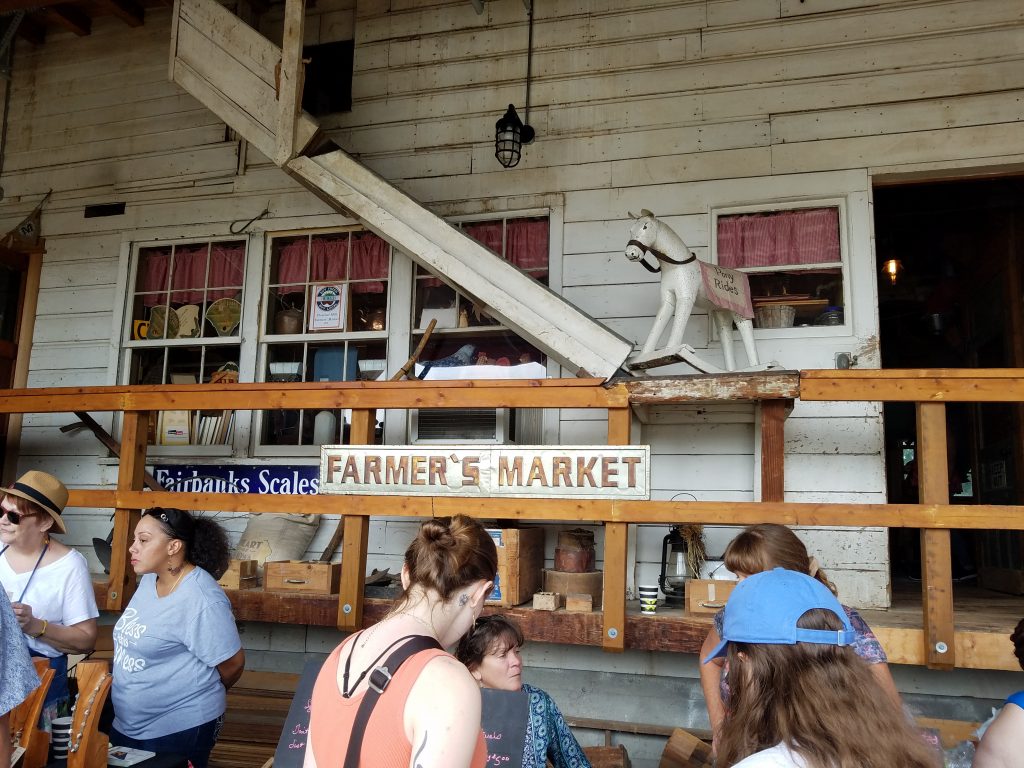 Back at the dock we began making preparations for leaving. We tested and secured the new ladder, blew up and stowed the life raft, finished organizing the pantry, cleaned out the dock box, topped off the water tanks and made sure everything inside was ready to ride tight. Dock Queen Margaret graciously took John to return the rental car at Eppley and we realized we had no oil on the boat. Since Swamp didn't get to that oil change, and we didn't have any idea if the engines or the generator would burn oil, we decided that was a necessity, so we sent them on an errand to track down the right stuff (which is preferable racing oil, apparently, but we settled for regular ol 30W). Sean worked on which lines were staying/going and finally, we opened all the windows and disconnected the shore power. By this time it was 1 pm, way later than we had hoped to leave, but hey, why break the trend, right?
We posed on the bow for one last photo op after a big round of hugs with the dockers and Sean started the motors. A beautiful sound when those twin Crusaders fire right up. With plenty of help and an enthusiastic send off, the lines were thrown and like a pro, Sean backed Prime Time out of her slip for the very last time and maneuvered out of the marina. We all held our collective breath as he made our way through the narrow cut into the swift and mighty Missouri river and just like that, we were on our way.
The trip winding through Omaha with its bridges and scenery was amazing. It was fun to see everything we'd been exploring during our visits from the water side. Sean's new apple nav software was working great but the machine itself kept shutting off, making him frustrated. Luckily John had sent off for and received paper charts in a spiral booklet form from the Army Corps of Engineers that proved to be most helpful as backup. It didn't take long until we were settled into a quite rhythm watching the river go buy with very little towns, houses, docks or really much of anything, in between. It was bright and sunny and I even layed out a bit on the bow to catch some rays. It felt lazy and relaxing even though for Sean, and John who was playing navigator, it was constant work to follow the 'magenta line' on the charts to keep between the submerged wing dams and in the deepest part of the channel. The river is high and running about 3 feet over flood stage but there hasn't been much in the way of logs or trash in the water to avoid. The most exciting thing is spotting the many bald eagles that perch high in the dead birch trees or swoop across the water in search of dinner. The scenery is mostly flat with trees lining both sides of the river bank and farm land behind.
Brownsville
Soon after the sun set and twilight was falling we came around a corner and spotted the bridge, museum, River Inn Resort bed and breakfast and Spirit of Brownsville paddle wheeler in the tiny town of Brownville, population 130. The owner, Captain Randall Smith and two others, were waiting there to greet us and take a line. It was difficult to see the red marker on shore showing how to approach the massive barge that's now part of the dock and we were getting a lot of waving instruction from them. Apparently, there is a chain of rocks we had to avoid, and a specific way we had to pull in to keep from hitting them or slamming into the paddle wheeler in front or ramming too hard into the barge. With Mary Ann at the bow and me at the stern, we were ready with line to hand off. Sean came in a couple runs to get perfectly lined up and when he got the final wave of approval, maneuvered expertly into the space while we just daintily handed the fellows on the dock our ropes. Then we set the fenders. It's always stressful and worrisome doing something new but we worked as a good team and got it done. We hugged and high fived and patted ourselves on the back.
It was dark by then so I got the flashlight as Sean went to turn on the generator. Nothing. He flipped some switches and still nothing. Once it came on for a few minutes but then turned right back off. Nothing he could do was working. While he made phone calls and tried to track down the problem, Mary Ann made everyone sandwiches and we had our first dinner on the boat under the subdued lights provided by the battery bank. Not exactly what we'd had in mind, but it was good and filling. John and Mary Ann had already called ahead and booked a room at the resort and at this point, with no air, shower, no lights and the biggest mosquitoes ever, we decided we'd pay the $120 and get one too. We grabbed a few things, closed up the boat and checked in to our digs, right on the water. It felt just like home, especially because during the night we heard the familiar clangity clang of those damned old grass carp having a snack on the hull under our room. We all turned in early, after a little wine, satisfied with a great first day on the river and looking forward to what tomorrow might bring.
Interesting Breakfast
We slept great and was up by 7 and back on the boat seeing what we could see in the daylight. The first thing we realized is the switch inside the hatch for the generator was off. Duh but of course in the dark it was difficult to see plus we hadn't moved the bed to get to that area. With that on, the generator started and the lights, air and everything came on. We cheered! But in 3 minutes, it shut itself off. This happened several times and we realized something was causing it to self preserve. While Sean did some research, I took a long, luxurious shower in our room (be grateful for unlimited water supplies) and then we headed to the dining room for breakfast precisely at 8:30 am. Randall was waiting for us and joined us for conversation while we ate a delicious breakfast of eggs, bacon, fresh fruit and a biscuit; hot coffee and orange juice. What a treat to get to learn more about this sleepy little town and all the amazing additions Captain Randall had brought to it. He told us of all the churches he'd moved here – one for a bookstore, another for a top notch theater the likes of the Lyceme in Arrow Rock. He told us how he bought his first paddle wheeler in Texas site unseen and without any experience, how him and his wife brought it up the Mississippi to the Missouri. He told us how he sold that one (turns out we passed it and took pictures of it at its new home in Omaha) and how he got his current boat. Apparently the theater is quite a success but the town didn't have any place to eat so he decided he'd start a dinner cruise. And then later, he realized people might like to stay over but there wasn't any hotels so he bought another boat with 18 rooms and started a little B&B. Somewhere along he bought another boat, put it on land and made a museum out of it but it was closed while we were there. According to Randall, everything is pretty much closed up until maybe Thursday but then the town starts packing them in.
After breakfast we need to get the jugs filled. Randall handed John his keys and said we looked like honest folk and pointed to where the gas station was located. John and Mary Ann took a quick detour into the town and said it was quaint and cool and they're planning to come back to explore at a later date on the motorcycle. We were disappointed we didn't get to see it but we were working out possible generator solutions, without any real success. We go back to our room to change and the plastic key card breaks off in the door slot. Sean goes around to the other interior door and realizes he's put the safety latch on that so not getting in that way. Resourceful Mary Ann goes over and tries the window. It doesn't have a screen and it slides right up. She turns and says 'I'll be right back" and proceeds to disappear through the tiny opening and unlocks the door from the inside. We are all laughing so hard at the absurdity of the whole thing.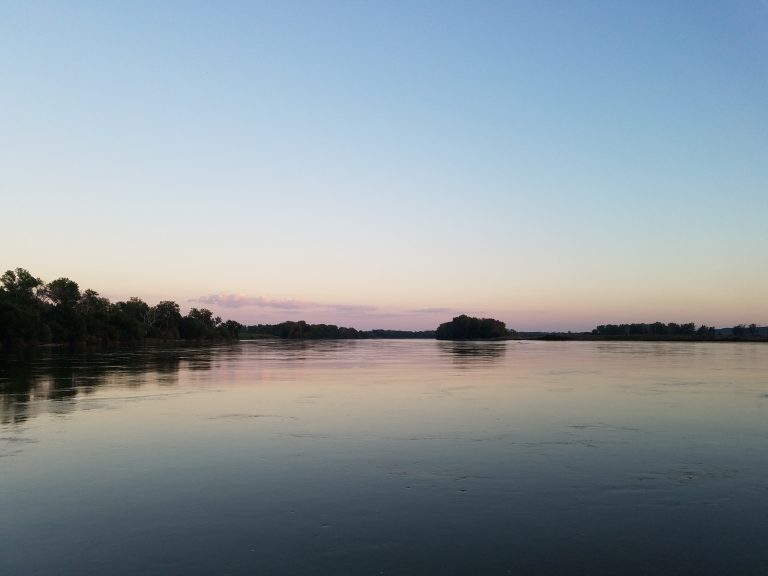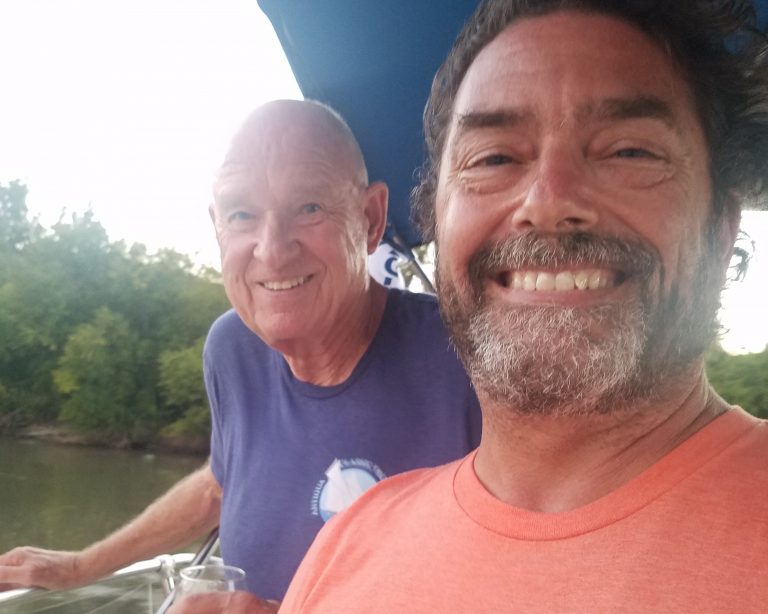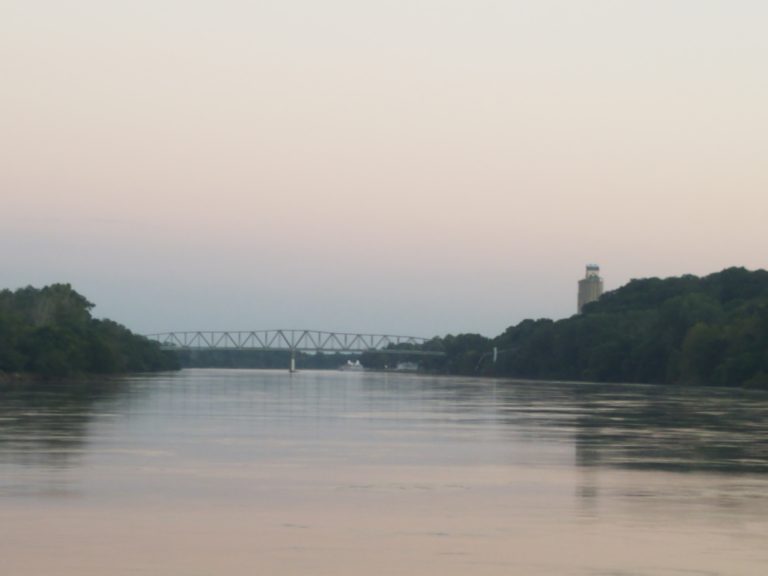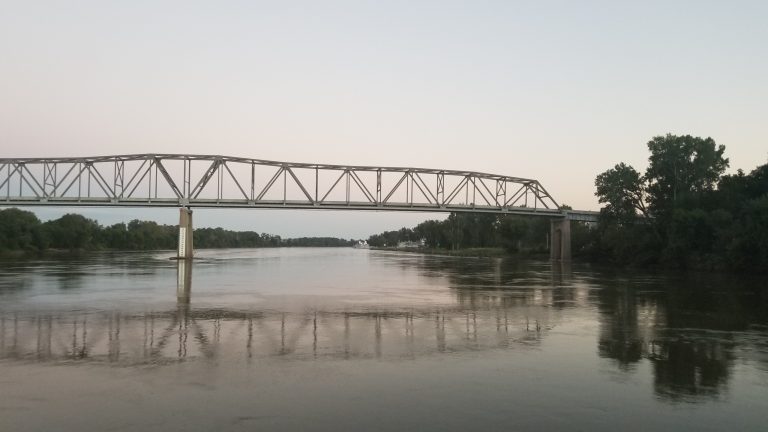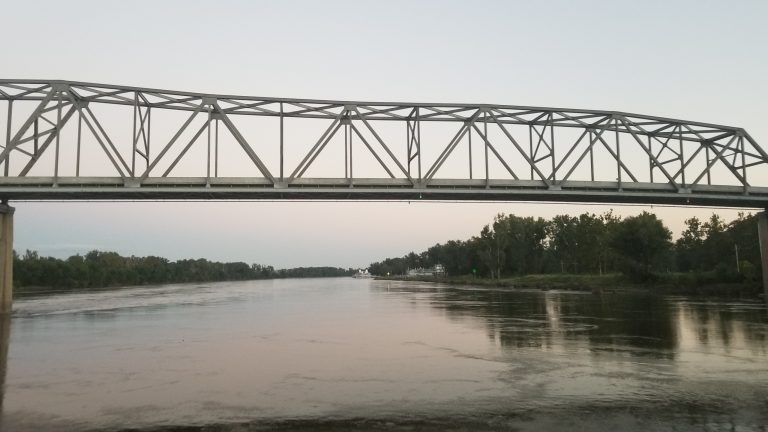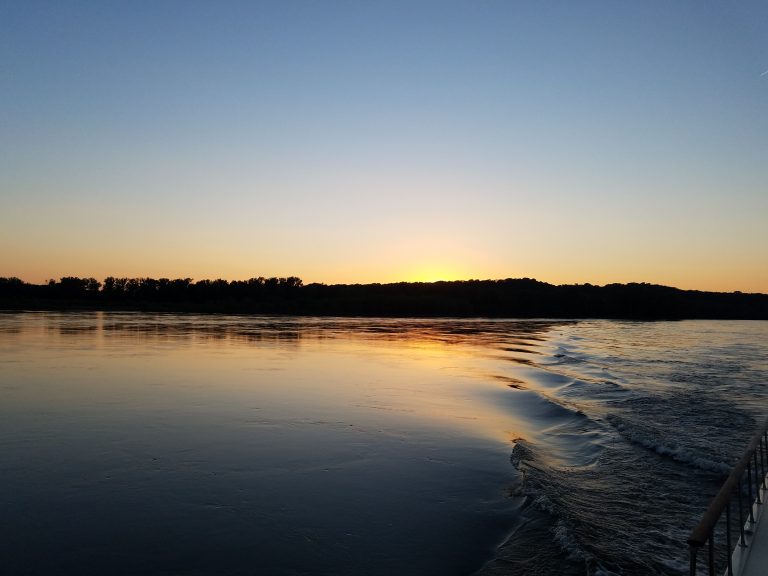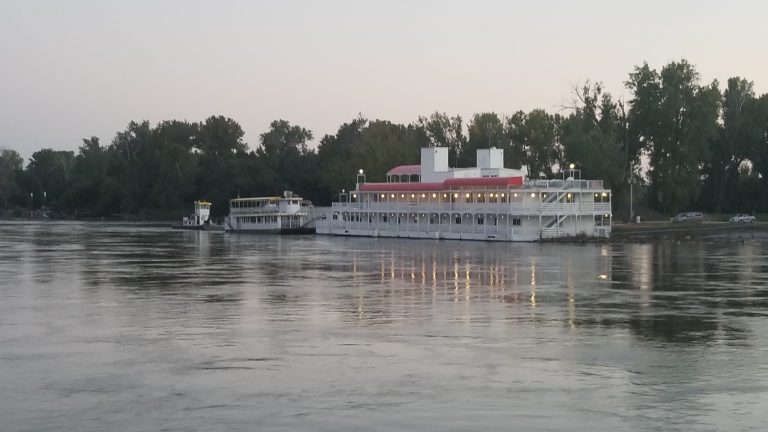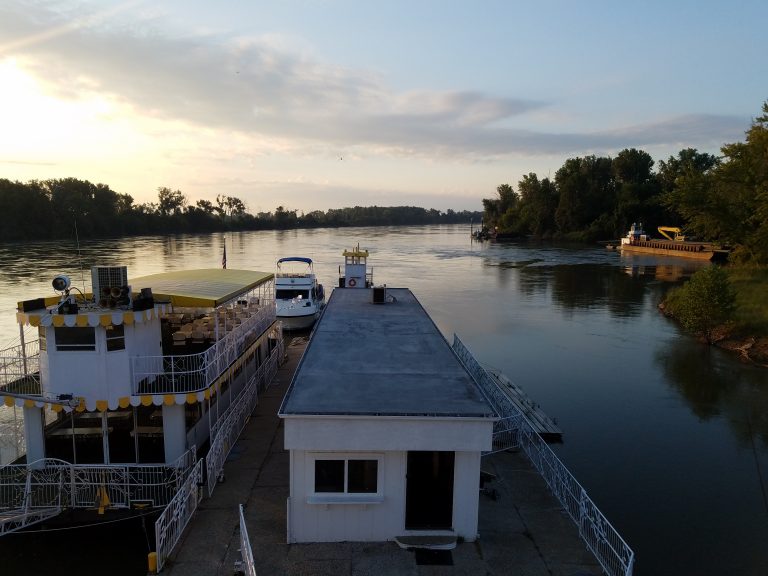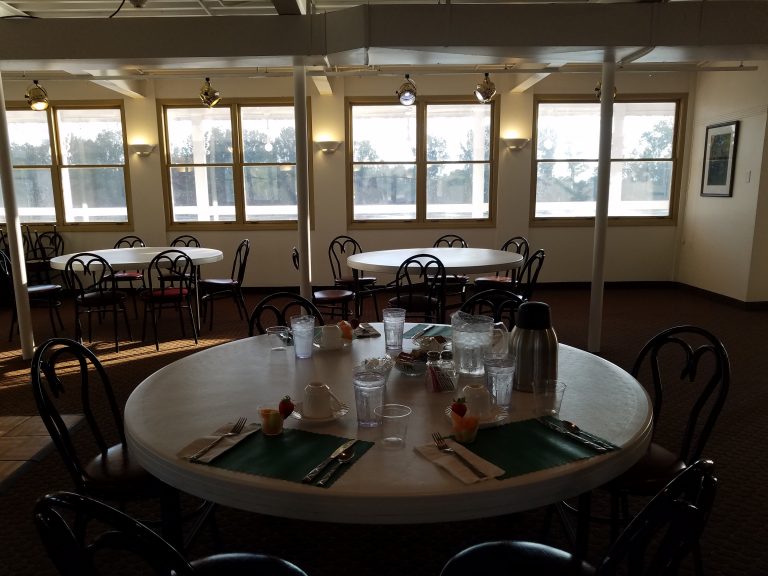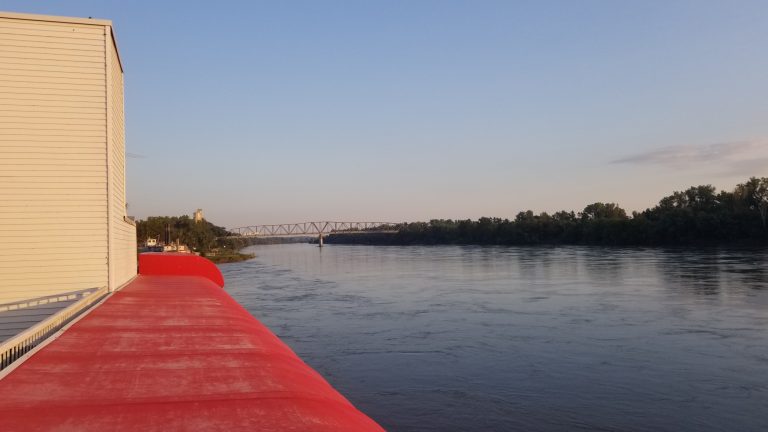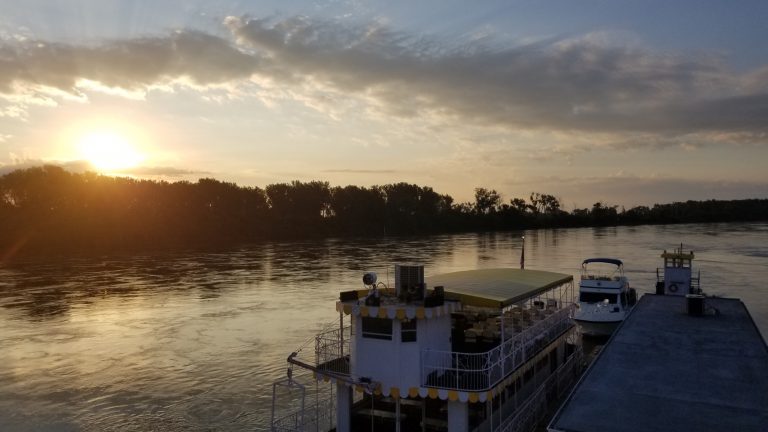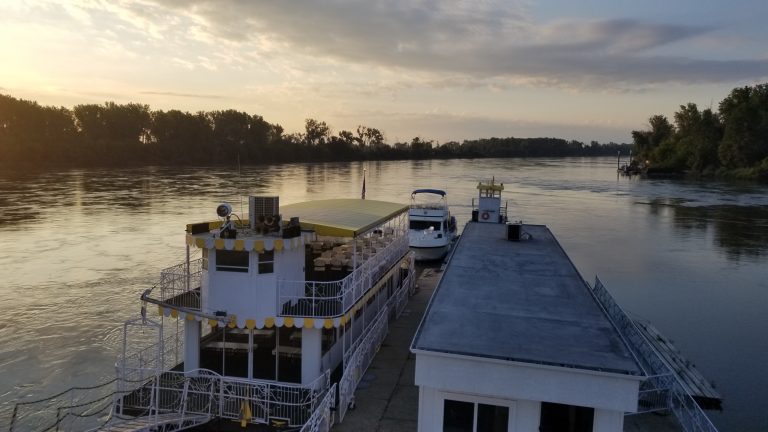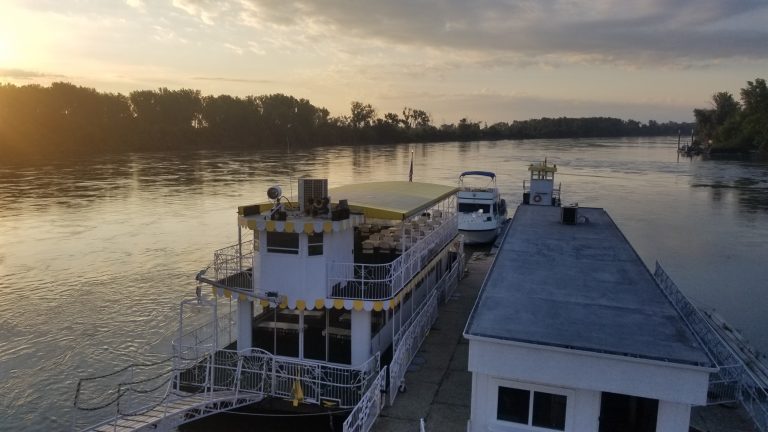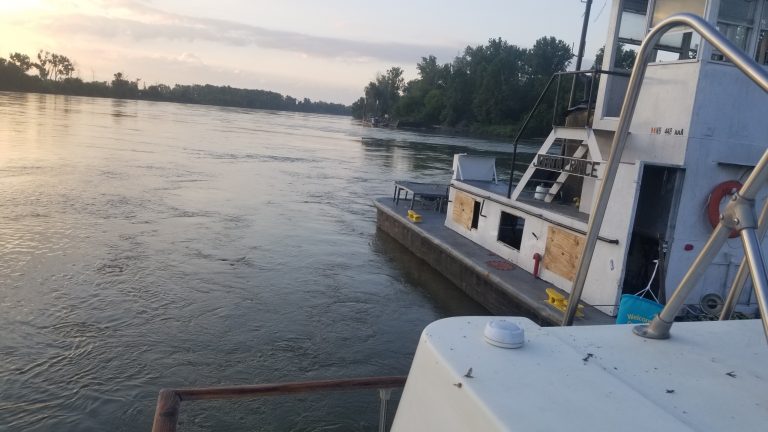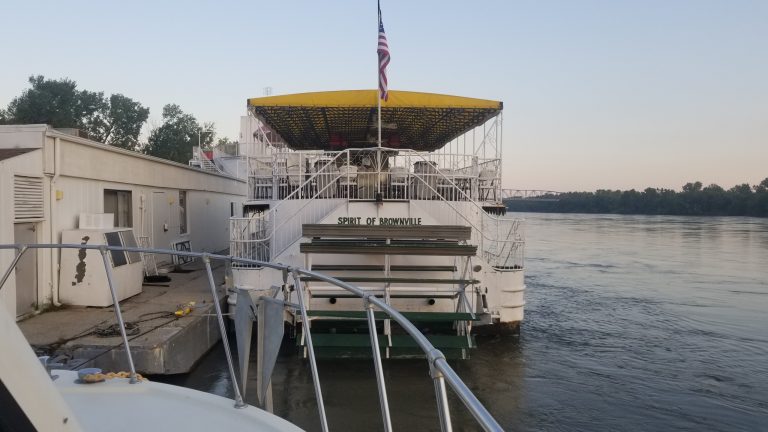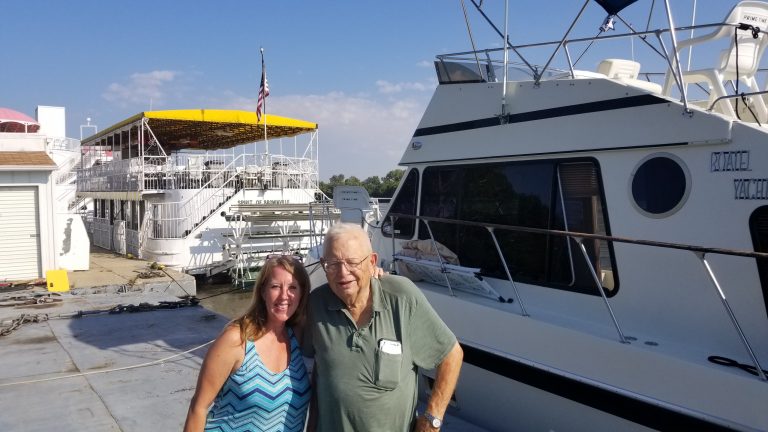 Heading to St. Joseph
We finally packed it up and got off the dock a little before noon. The port engine died repeatedly as Sean was pushing off so it was a tense moment trying not to hit the barge or back into the rock jetty behind us. We had a full day ahead to get to St. Joe and were looking forward to meeting the good people with Sea Jay Marine. We'd already made arrangements for their mechanics to do a complete once over on the engines (after now putting 140 or so miles on them), change the oil and now take a look at the generator. Unfortunately we would roll in after 7 pm so all that would have to wait until morning.
The rest of the day was smooth sailing under slightly cloudy skies and mid 80's temperatures. John and Mary Ann took the helm for most of the journey. I worked a few hours on my laptop until it died. We only had one inverter and it was being used on the bridge to power the IPAD and keep phones charged. Most of the time we didn't have cell reception anyway. We minimized time in the fridge to keep items as cold as possible, as long as possible. Mary Ann made a nice lunch and we had ice for our drinks so it was comfortable.
We spied the lights of the St. Joseph casino before we made out the dock at French Bottom conservation access. John was dubious but as we got closer he realized it was a workable situation. Sean, Dad and I had scoped it out in person so we had confidence. We had hoped our SeaJay Boats friends would be waiting to take a line but we docked easily, again working as a great team (with John jumping on the dock to tie off), and put the boat to bed. Soon enough Steve and Joanie showed up at the dock. They are the nicest people you ever want to meet, and have been together since high school and in business for 54 years! She retired from banking and went to work in the marine business with her husband and they make a great team managing a couple mechanics and a storage unit not too far from where we docked. They like to take off in their motor home, which apparently is like its own parade when pulling their jeep and boat behind it, and go fishing for just about anything but they're particularly fond of walleye. We made introductions and resourceful Mary Ann convinced him to just 'give a look' tonight at the ancient generator, which he did but could only say, ya, it's probably the impeller. Luckily we had a few spare parts courtesy of the previous owner, and an impeller was one of them.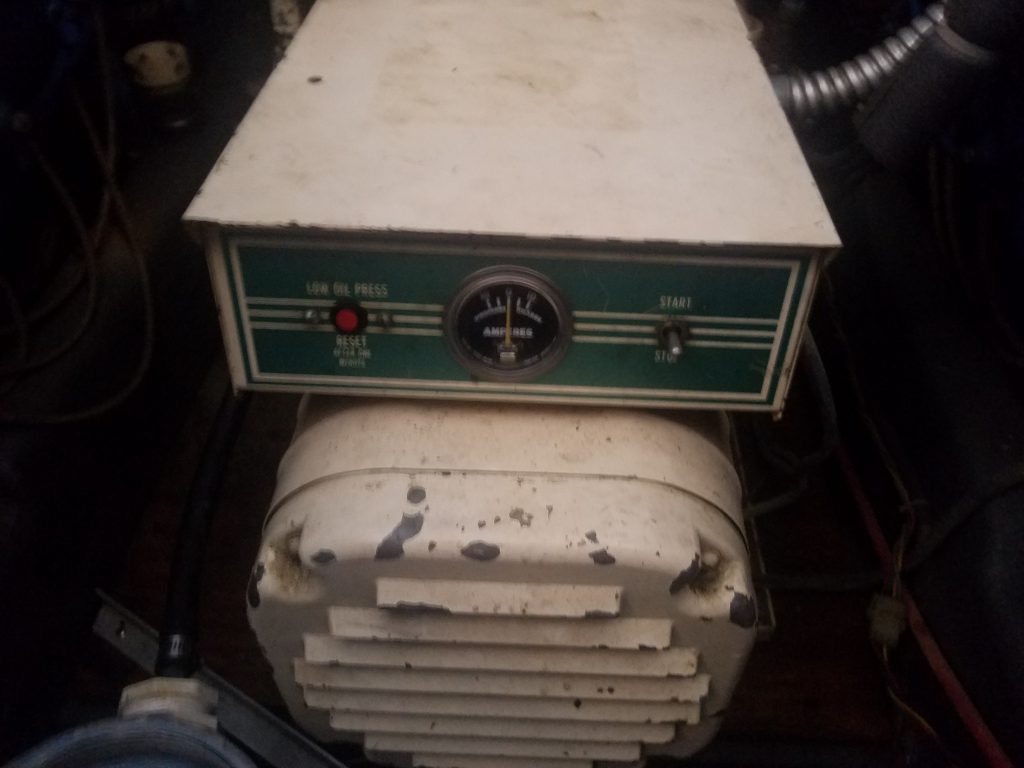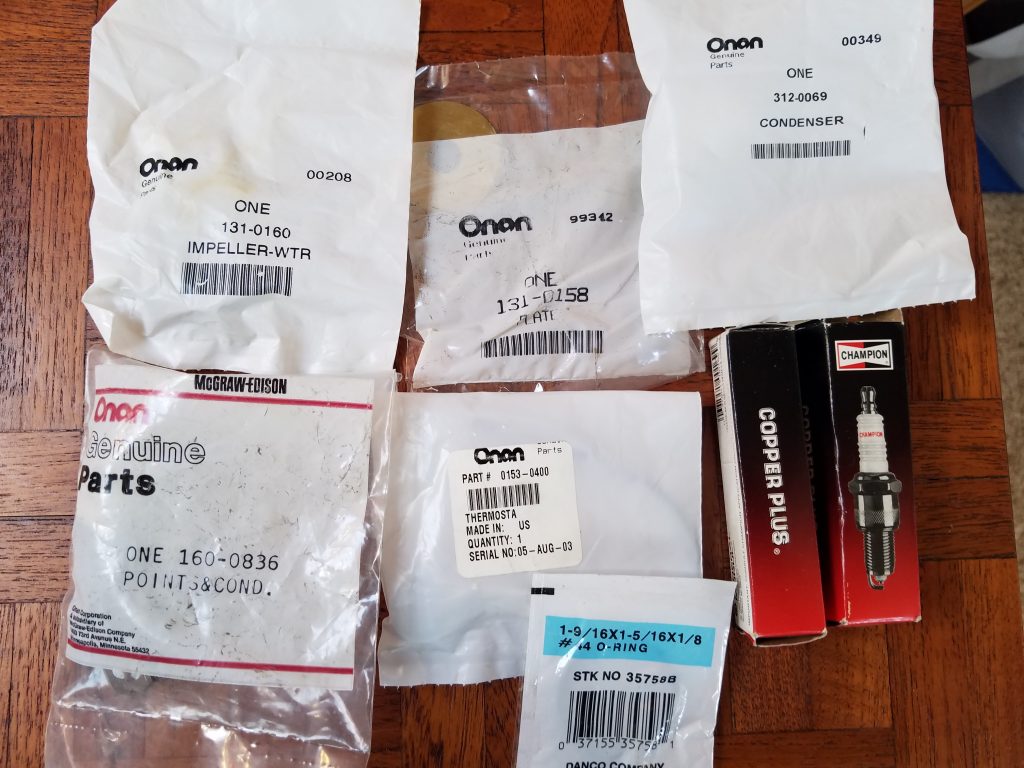 After a stern warning on the vagrancy in the area, (both Joanie and Steve have conceal and carry and strategically have their weapons placed in the motor home when traveling), Joanie insisted on giving the Virants a ride into town to the motel. Mary Ann would rather stay and camp on the boat but John is set. We stayed behind, Sean intent on seeing if he could you tube instructions on changing the impeller out – how hard could it be? Soon Steve showed back up with his voltage meter and checked the boxes at the pavilion up from the ramp and determined there was power. Sean ran a cord to the boat which gave us some electric to charge equipment have a little light. I broke out the grill and fixed up the skirt steak kabobs from Lucky's, some sweet corn and fresh tomatoes for dinner and we ate by candlelight on the bow of the boat, the flashing casino lights as a background. We had lots of company pulling into and out of, or walking to the pavilion but no one ventured down the dock. Just in case we locked up tight (as tight as a boat can get) and called it an early night.
Working Down Below
The next morning Steve and the mechanics showed up bright and early. We got up at 7 am and broke down the bed and got everything ready. They started working on things right away, firstly getting the broken impeller out and the replacement in. That went smoothly so they fired up the generator and it seemed to work. The water wasn't really spitting out the boat but it was concluded it was just coming out slowly. We turned it off so they could do a visual inspection of the belts, hoses etc. and then they went back to the shop to get supplies while Steve went to get the (very expensive) oil to change the oil on both engines and the generator. In the meantime, Carl with St. Joe Oil showed up with the gas truck. When we called we had told them it would be at least 125 feet to get to the boat but when Carl stretched out the hose it barely went a quarter way down the dock. That wasn't going to work. Steve, the mechanics and Sean walked down to the ramp to see how it might work for us to move the boat there and the gas truck back down to it. Then they got in Steve's SUV and ran down the river to look at the docks closer to his shop to see if we might tie up and fuel there. Neither scenario seemed plausible and time is ticking. In the meantime, Carl is just hanging out and we're chatting and he tells me about how he used to have to fuel up an excursion boat down at the city dock downtown every week and how much he didn't like doing it. I asked if we might move the boat down there if that would work to which he replied he'd still have to go get the extension hoses.
Wait. What? You have extension hoses?
Well, they're in a storage that they hardly ever used any more but he reckons he could go get them and come back. Awesome, Carl! We'd appreciate it.
I call Sean and let him know and the crew returns to the boat (after wasting 45 minutes) and they get back in the engine room. Joanie is back with the Virants who, like us, are chomping at the bit to get under weigh. Mary Ann pulls me aside and confides in me that now she knew why John was so insistent on 'alone' time in the hotel lol. They crack me up how they interact with each other. They are an outstanding example of how a lasting marriage should be. Apparently, they've been calling each other "Foof" since they met in collage, him in pre-law and her in economics. I never did get the story of that but they had endless variations of this charming term of endearment they used, depending on the message: Foofer meant I need your attention right now. Foofee meant I need you to do something for me and so on. Sean and I call each other Boo sometimes but I make a mental note and am inspired to come up with something more unique.
In the meantime, I get a knock on the boat and it's the police. Uh, oh. My mind starts racing trying to figure out if we did something wrong. Turns out they have a permit for the entire parking lot to put up a defensive driving training course and need all the vehicles moved. This turns out to be a total pain as the guys seem to need things at the shop and have to hoof quite a distance to their cars back and forth. On top of that, each 'run' through the course required the sirens and lights at full blast so that was fun all day.
About 11 am the mechanics are finishing up and Carl is still no where to be found. Joanie calls the dispatch only to learn he's went on another call, to another town, and will get back to us after lunch. Joanie gives them the what for letting them know we're ready to leave and need that gas but no amount of pleading or prodding is going to hurry up Carl. The mechanics packed up their tools and we fired up the generator as they were leaving to get the boat cooled down. It operated for less than five minutes – just enough time for them to get in their cars, and it over heated and shut down. All our joy was gone as Steve called them back to the boat. They got back in the generator compartment and tore it apart. This time they realized the shaft in the pump was broken. It should have been spinning the impeller, but it wasn't. They removed it to take back to the shop to evaluate and we waited some more for the gas truck to show back up and watched the police cars trail through the orange cones in mock chase of imaginary get away cars.
Bored and needing some coolness, Mary Ann and I walked to the Remington Nature Center (instead of the casino) and spent some time exploring the fascinating Indian, geological and history museum. My favorite part was the aquarium filled with native river fish and an aviary with singing colorful little finches. Long about 1:30 I look out the window and see Carl has arrived with the hose extenders. We make our way back to the boat just in time to see a virtual gas geyser spewing from the input on the boat. It seems the pump had been turned on full speed and trying to run gas in at that volume into that tiny hole just wasn't a thing. Unfortunately, the bedroom window was open so much of it ended up inside. Carl cleaned up the mess (outside) and began to pump at a lower rate and before long the tank was full and the cans topped off.
Soon after that the mechanics returned very excited. They had went to a machine shop and the welder silver soddered the shaft back into the pump. So instead of a $400 replacement part that would have to be ordered for next day delivery, it was just $50 bucks. That seems like quite the bargain. The guys spent some time reinstalling it, turned on the generator and it ran and the water came out the side. Success! Everyone again patted each other on the back and congratulations on a job well done. We posed for group pictures and hugs and I got out the checkbook to pay for the Sea Jay bill (which it should be said was very fair given they had Steve, both mechanics and Joanie pretty much at the boat or running errands all day). We were just saying our last goodbyes and I turned to Sean and asked what the noise was I was hearing. He opens the door to the salon and there's blue smoke in the cabin and the generator is making an awful racket. Sean immediately shuts it down and I call after Steve and Joanie who are already up the ramp.
Steve comes back down and looks and throws his hands up in the air, defeated despite his team giving an A+ effort. It's the end of the work day, the mechanics are headed home and there's nothing more that can be done. It's disappointing for everyone. We realize we've still got ground to cover so we hastily ready the boat and get off the dock. Next stop, Atchison Kansas.